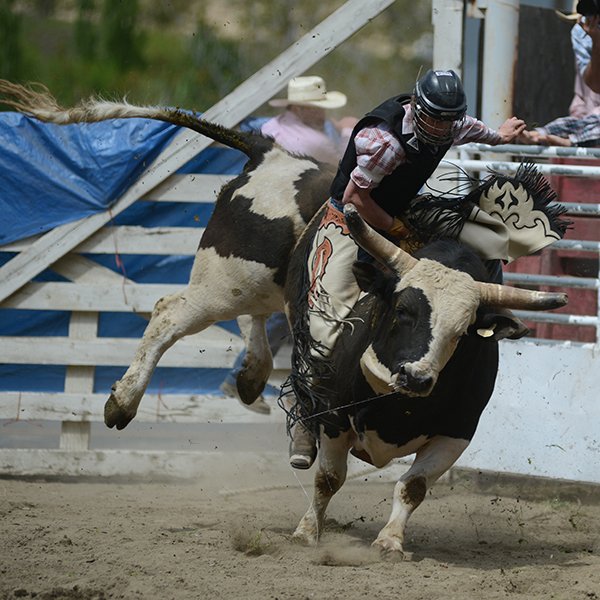 RIGGINS — Ropers, racers, riders and a roaring rodeo crowd are all set to roll into town, as traditional as springtime's bloom in this mountain river hideaway.
Come the first week of May going on 66 years, the Riggins Rodeo brings all kinds of people to town: a family-friendly gathering in the grandstands, and an occasionally raucous romp on the opposite hillside.
The scene this weekend will surely be beautiful for Riggins' business community.
But some of the participants are expected to be of obscure, mean-mannered lineage and of foul temper — the kind of beasts that would thrash honorable men into the dirt and kick them while they're down. Those would be the bulls and broncs, of course, and other stock to be provided by King Cattle Co. of Homedale and Cross-O Cows and Calves of Riggins.
In addition to the traditional slate — saddle bronc, calf roping, team roping, bull riding, bareback riding, wild cow milking and barrel racing — ranch bronc riding will be a main event.
Other events include junior boys steer riding and local girls barrel racing, which will feature youth from Idaho and Lewis counties and the Long Pin Conference.
The 66th Annual Riggins Rodeo will go at 1:30 p.m. MT this Saturday and Sunday, May 3-4.
Cowboy breakfast will be Sunday morning, 6-10 a.m. MT at the I.O.O.F. Hall, followed by the Main Street parade at 11 a.m. MT.
Rodeo tickets are priced: $10 for adults, $5 for ages 7-12 and free for ages six and younger.
Info: http://rigginsrodeo.com
628-4084