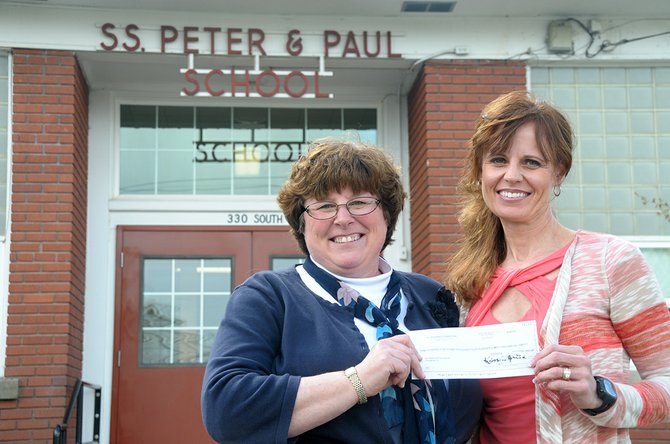 Photo by Lorie Palmer
(L-R) Sts. Peter and Paul School principal Teresa Groom and board chair Heidi Lindsley show the check recently received from the Weigand Foundation for a technology grant. The two co-wrote the grant.
GRANGEVILLE — Sts. Peter and Paul School will be tops in technology now thanks to a recent grant.
School officials applied to the E. L. Wiegand Foundation for funds to help update computers and additional technology at the Sts. Peter and Paul School.
"We recently received word we have been awarded $141,442.04 from the foundation," said SPPS principal Teresa Groom.
The school will be able to replace all 50 of its computers, nine printers and add 24 handheld devices (such as tablet/chrombooks). In addition, CompuNet will work to increase the school's bandwidth. A new Compass Learning software system with a language arts component will also be purchased to coincide with the MAPS standardized testing program. A new library computerized system will also be purchased.
"We are really excited for this opportunity as we haven't had a major technology update in more than a decade, aside from the Smartboards we were able to install last year," Groom said. "The 2002 technology boost was also funded by the E. L. Wiegand Foundation."
The foundation that made the renovation possible was founded in 1981 to carry out the legacy of the late Edwin L. and Anne Wiegand. Edwin L. Wiegand was a self-taught engineer who investigated the illumination properties of electricity through wires. In 1915, he was granted his first patent. In 1917, Mr. Wiegand founded Edwin L. Wiegand Company in Pittsburg. Throughout his lifetime, he continued to work with electricity and never retired, even after he and his wife moved to Reno in their later years. They invested the money Mr. Wiegand earned from his inventions and used the profits to make charitable gifts.
SPPS work on the bandwidth will begin this summer with hopes for completion when school starts in the fall.