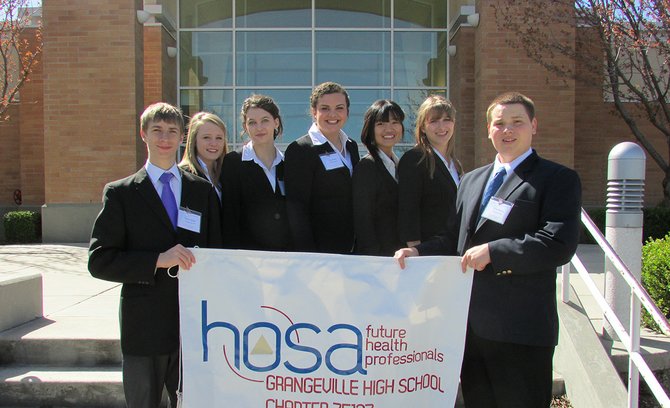 BOISE — Local high school students recently competed at the state level in HOSA (Health Occupations Students of America) at Boise.
"I am really proud of all the kids who participated," said GHS adviser Tracy Baune, Mountain View School District 244 nurse. "They did a great job and they are learning so much."
For Grangeville High School, taking first place in extemporaneous writing was sophomore Lily Willig. Second-place extemporaneous poster winner was South Korean exchange student Grace Suh, a junior. Third-place winner in growth and development was senior Alex Nuttman and also taking third in medical math was Dillon Alder, sophomore.
Four students placed in the top 10 on the health care issues exam as well. They were Willig, Alder, junior Sean Bailey and freshman Delayne VanGunten.
Prairie and Nezperce high schools traveled with GHS students and several from those districts also placed in the competition.
PHS sophomore Lauren Alfrey, took second in veterinary science and taking third in nutrition was senior Becka Bruner.
Nez Perce's sophomore, Tianna Litch, earned third place in prepared speaking.
Also participating from GHS was Mary Kaschmitter; from PHS, Katherine Nida and Daun Hoene; and from NHS, Kelsey Seitz and Sidney Kuther.