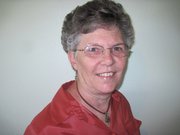 COTTONWOOD — Happy May Day to everyone! Even if it keeps snowing once in a while, we know that summer is coming. The cows will be going to pasture soon if they haven't already.

Friends of the NRA are having a dinner Friday evening, May 2, at 5:30 p.m. at the Greencreek Hall. Tickets are available at Rae Brothers in Grangeville. Tickets are $40 per person or $150 for two meal tickets and $100 in raffle tickets. You could win one of the guns they will have there.
Grab your family and friends and come out to support The Center for Discovery Saturday, May 3, at 6:30 p.m. at the Cottonwood Community Hall. Dinner will be roasted pig, twice baked potato, broccoli and cauliflower salad, Caesar salad, applesauce, dinner roll and dessert. Cost is $45 per couple, while kids sixth grade and under eat free, seventh to 12th grade $10 per plate. Games and auctions will take place throughout the night, along with a craft project to do with the kids. There will also be the opportunity for family pictures. To get tickets call Erin Shears at 816-0202, The Center for Discovery at 962-7080, Tara Rowland at 962-7071 or e-mail to either shears@sd242.org or tararowland@idahovandals.com.
Summit Academy will be presenting a play titled "Much Ado about Napoleon" on May 8-9-10 at 7 p.m. each evening. There will also be a Saturday matinee at 2 p.m. Love and treason are in the air! Join us for an adventure comedy based on Shakespeare's play! The performance will be in the Summit Academy gym at 122 Substation Road north of Cottonwood. There will be a spaghetti feed each night from 5-7 p.m. with homemade rolls and sauces! Prices are as follows: $5/adults and $3/5-12 year olds. Age 5 and under are free. The total charge for a family is $20, a three-day family pass is $30 and a four-day family pass is $35. Concessions will be available for purchase. These kids do a great job of putting on a play.

Are you getting ready for the Cottonwood citywide yard sales? The library is about finished with the move and remodel, so we have furniture such as a desk, storage cupboard, book cart and shelves, along with lots of books and other miscellaneous items donated by generous people. If you have anything you don't need we would take it for our yard sale. If you want to have a yard sale with us there is still room for you. Dog Bark Park will be having a yard sale at their place that day also. Anyone interested in material for quilting should see what they have. It will be a fun day for you to come to Cottonwood.