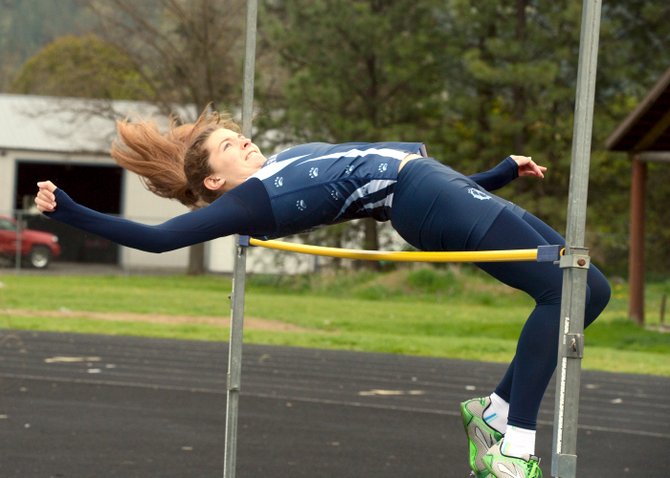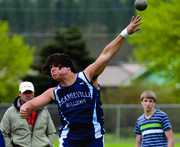 KAMIAH —Grangeville's track and field squad marked out the top boys and girls scores last Friday, April 25, at the Lewis-Clark/Nez Perce Games behind nine first-place boys finishes and four first-place girls finishes.
GHS junior Kaleala Bass nearly had a personal record in the girls high jump, which she won by clearing 4-10 on her first attempt. She then asked for the bar to be raised to 5-5 — an inch higher than she cleared during her freshman year.
Bass nearly cleared that height — but not quite. She went on to set a personal record in the 200 meter run (26.92 seconds), win the 800 (2:28.67) and finish off her day with a PR in the 400 (60.45 seconds).
Grangeville won the girls 4x400 relay and placed second in the 4x200.
Hailey Sullivan took second in both the 200 and 400, and Emily Kaschmitter added a second-place 800. Jacey Arnzen placed second in the triple jump and third in the long jump. Darby Finnegan placed third in the 300 hurdles and Taylor Hazelbaker tacked on points for GHS in the girls' shot put and discus throws.
On the boys side, Quaid Blankenship tripled up with wins in the 100, 200 and 300 hurdles, while three other Bulldogs doubled: Michael Stevens in the triple jump and the 110 hurdles, Diego Barela in the 800 and 1600 runs, and Drew Lindsley in the shot and discus throws.
Coming — With the annual "area best" meet in Lewiston looming at 1 p.m. May 1, a number of Bulldogs have booked top-10 performances on the 2A classification's statewide leaderboard, per athletic.net.
Individually on the girls side of the 2A top-five are: Sullivan (12.75 in the 100, 26.37 in the 200, and 62.34 in the 400); Bass (26.92 in the 200, 60.45 in the 400, 26.56 in the 800, 5-0 in the high jump), and Madison Brown (33-5). Grangeville's girls spring medley relay and 4x200 relay have clocked top-three times; the 4x100 crew of Sarah Wilson, Fortin, Sullivan and Bass posted a top-two 52.74.
On the boys side, Blankenship has top-three times in the 100, 200 and 300 hurdles. Stevens has top-three performances in the 110 hurdles and triple jump, and Drew Lindsley has a top-two shot put and far-and-away the classification's best discus throw to his credit.
Lindsley set the classification's leading discus mark and a new personal record in one fell swoop at Kamiah, firing it 171-8.