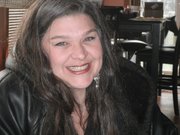 WHITE BIRD — Can you believe that today is the last day of April already? I sure wish we could slow this big world down a bit.
Joe Wilson will be celebrating his 96th birthday on Saturday. There will be an open house at his place on Slippy Creek. Stop in and say hi and wish Joe a happy birthday.
The Rebekahs are having their Cinco de' Mayo dinner this Saturday, May 3. There will be homemade goodness from 3-6 p.m. Come and support the Rebekahs who support all of us. Have I mentioned what great cooks these ladies are? I've got to tell you, this is one of my favorite meals of the year. As always, it will be at the IOOF hall. See you there!
There are going to be White Bird city yard sales this weekend. I know for sure that there will be yard sales at the Antique Store, the Library and Swiftwater R.V. Park. If you have a few things in the attic or out in the garage that have been sitting and collecting dust, this weekend would be a good weekend to put a sign up in front of your house and get rid of it all.
On Friday the Salmon River Art Guild is going to meet down at the Swiftwater R.V. Park gazebo for an afternoon of painting. A few of them may have things for sale, so stop in and say hi and see what's going on. We'll pray for beautiful weather.
Mother's Day is right around the corner. This weekend might be the perfect time to find something for that momma in your life. Both Canyon House and White Bird Antiques are going to have some great deals.
We still have our petition sign-up sheet at Canyon House to turn the White Bird School into the White Bird Area Parks and Recreation District. If you don't know what's going on, stop in and inquire. I'm so excited about this. The school district is being so generous, and they are trying to work with us as best as they can to make this transition as easy and as inexpensive as possible. We all should be so grateful for that! With that in mind, the school levy will be in a few short days, and finally, we have a school board that is not only fantastic for the entire district, but they have been wonderful to White Bird. A yes vote on the levy would show our appreciation.
Hiking for Healthy Hooters will be May 17. This is an organization out of Riggins that has done so much for the ladies on this river who have needed support during their cancer treatments. I have an order form at Canyon House if anyone would like to order a T-shirt in support of their cause, or a sign-up sheet if you would like to participate. This year, Emma's name will be on the back of the shirt.
Happy birthday this week to: Gabe Duncan, Mary Bakker, Donna Seyer, Joe Wilson, the fantastic Heather Eldred, the beautiful Julie McClanahan, Mike Fredrickson, Brandi Mundt, Brian Yoakum, Ryan Johnson and John Bashaw.