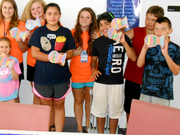 Pleasant View Baptist Church in White Bird held its annual vacation Bible school with the help of a teen mission group from Tennessee. Here, some of the participants display their crafts. The church also scholarshiped seven kids to attend Alacca Bible Camp at Harpster.
Real Life Grangeville Campus held Sunday services Aug. 3 in their new church facility on East Main Street in the former USFS office building. The church had formerly been meeting for more than a year Sunday mornings in the Blue Fox Theater. Sunday's grand opening included live worship music, and the message was delivered by Real Life Head Coach Aaron Couch of Moscow. Pictured helping check children in for the Real Life kids' ministry are (L-R) Erica Perry and Jennifer Griffis.

Children from the Kamiah Vacation Bible School collected loose change throughout the weeklong program and then donated the $130 they collected to St. Mary's Hospital. This money will be used to purchase stuffed animals which will be given out to their younger patients to help them feel a little more safe and secure when they need it most. The Kamiah Vacation Bible School was sponsored by the following churches: Kamiah Community Presbyterian, Kooskia First Presbyterian, St. Catherine Catholic, Life Center and Faith Lutheran.