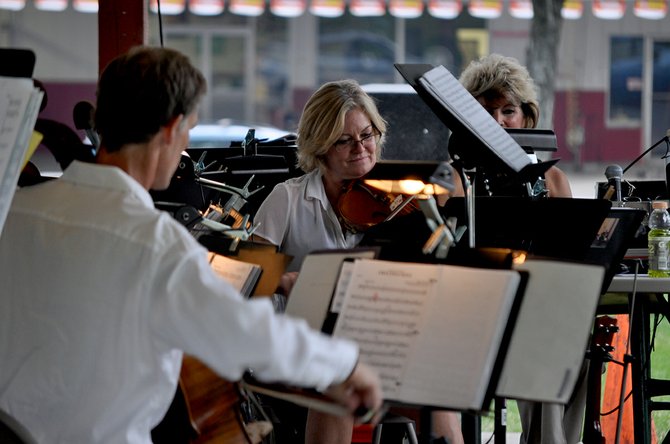 Photo by David Rauzi
Orchestra members perform here in 2013.
GRANGEVILLE — The Idaho County Orchestra will present the last in the Grangeville Summer Concert Series Thursday, Aug. 4, 6 p.m., Grangeville's Pioneer Park. The orchestra features six violins, cello, bass, guitar and harp.
The orchestra began nearly five years ago after a local musician put an ad in the paper calling for members. The group rehearses regularly at the United Methodist Church in Grangeville.
Directed by Larry Paul of Stites, the group also includes a variety of people from throughout Idaho County. The group performs several times a year at various events.
This concert will be a benefit for the Camas Prairie Food Bank. Boxes will be set out for food donations and representatives for CPFB will be available to take monetary donations.
"We were sorry for the change in venue last week but the weather looked ominous and we had to make the call three hours before the concert so the band could set up," explained Rachel Young, Grangeville Arts, Inc. "The bad weather didn't materialize but Working Poor sounded great in The Gallery!"
The concert is sponsored by Grangeville Arts, Inc., and the Grangeville Chamber of Commerce. The free event is open to the public who is invited to bring lawn chairs, blankets and a picnic and enjoy the evening at the park.