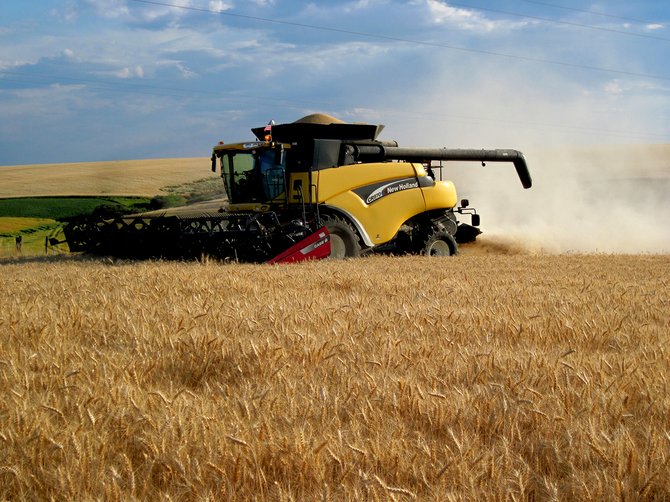 COTTONWOOD — Harvest started on the Camas Prairie this week. It seemed like all of a sudden it was in full swing. Eric Wassmuth was putting his new combine to the test. It is a New Holland with a 36-foot header. It seems to be doing a good job and makes short work of a field. Yields are good this year.
Things got interesting Saturday night when the storm came through. Primeland Big Butte Elevator got backed up and truckers were held up for four hours. The Primeland crew treated everyone well during the wait. Lightning from the storm started several fires around the prairie and the river breaks. Most of them were put out quickly by the fire departments and local people who immediately stopped their own machines and went to help a neighbor. We had a few drops of rain and a huge wind for about 30 seconds, but the Cottonwood area got a hard rain. There must be fires somewhere as the air is still smoky this morning.
A celebration of Ernest (Ernie) Jennings' life will take place from 4-7 p.m. Aug. 9 at Greencreek Community Hall. Join the family for dinner and the time to share memories. Ernie was a favorite teacher of many of the students in this area. We will miss him.
A memorial service for Sister Mary Paule Tacke will be on Aug. 14. Rosary starts at 10 a.m. and the Mass of Resurrection will follow at 11 a.m. This will be held at St. Mary's Church in Cottonwood. She was a missionary who gave her all to her work. She was from this area.
Did you go to the open house at the School House Apartments for Senior Living in Cottonwood? Jack and Jeanne Wimer really did a nice job on the remodel. The apartments are large and seem more like a home than an apartment. Jane and Roger Burgess are the first tenants. They love it there. Give Jane a call if you want to see their home.
Sunday, Aug. 10, is the Knights of Columbus monthly breakfast from 7-10 a.m. Take your family out to eat.

It was good to see Fr. Joe Schmidt who substituted last Sunday for Fr. Paul, who is on vacation. Fr. Joe is from Greencreek, and we always welcome him back at every opportunity. Fr. Bruce Wren will be visiting his family in Cottonwood and will offer Mass at Ferdinand on Friday, Aug. 8, at 8 a.m. Welcome home to both of you.
Campers last week in the Gospel Hump Wilderness were awakened early one morning to a lot of splashing in the lake. They peeked out of the tent and saw a small herd of elk just splashing and playing around in the water. What a sight!

Huckleberries are on and the report is "they're big." People are finding them on Cottonwood Butte and Grangeville mountain. All the rain this spring must have been good for them also.