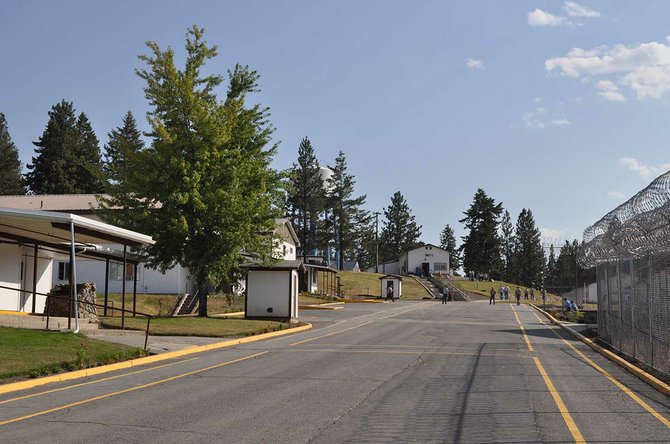 Photo by David Rauzi
North Idaho Correctional Institution at Cottonwood opened in 1974 as a minimum security facility. It currently has an operating capacity of 414 male offenders.
COTTONWOOD – It's been the second chance for Idaho's convicted felons for four decades.
This Thursday, Aug. 7, North Idaho Correctional Institution marks its 40th anniversary. The public is invited between 10 a.m. to 3 p.m. to tour the minimum security facility and attend tours highlighting NICI's programs. A 1 p.m. ceremony will be held to present GED certificates to recent NICI inmate graduates, and will include a presentation by Idaho Department of Correction Director Brent Reinke and NICI Warden Lynn Guyer.
Located on Cottonwood Butte, the NICI facility started life in 1958 as a U.S. Air Force radar station under the direction of the 822d Aircraft Control and Warning Squadron until its closure in 1965. It then became a Job Corps center under the U.S. Department of Labor until the property was acquired in 1974 by the State of Idaho; NICI opened later that year.
"The facility was opened when IDOC recognized a need to separate retained jurisdiction inmates from timer inmates," said Guyer. "In the beginning it was also the women's facility for the state until 1984 when ICIO [Idaho Correctional Institution Orofino] took them."
Guyer explained IDOC obtained the property from the US Department of Education on a quit claim deed for 30 years. The only stipulation that NICI was required to fulfill was having an education program. He continued that NICI has continued to meet that requirement even though it is no longer under the stipulation.
"The vision for NICI's future is still that we continue to give offenders the programing they need to become productive citizens," Guyer said. "As our vision states: Dedicated and committed staff will transform lives one person, one family, one community at a time."
NICI has an operating capacity of 414 male offenders, primarily housing those sentenced under a retained jurisdiction sentence from 180 to 365 days. Retained jurisdiction provides a sentencing alternative for courts to target offenders who may, after a period of programming and evaluation, be viable candidates for probation rather than incarceration. NICI has three types of riders: traditional, for low-risk offenders; nine-month therapeutic community; and the sex offender assessment group.