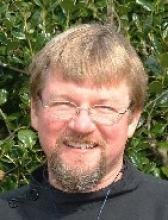 COTTONWOOD — In an upcoming retreat at Spirit Center, iconographer Father Damian Higgins will guide retreatants through a prayer process as each participant creates an icon of St. Scholastica, the sister of St. Benedict.
"Whether we know it or not, we're an iconographic people," Father Damian Higgins said. "We're surrounded by images we respond to, but mostly they advertise. They direct us toward a product. Holy icons direct us not toward themselves, but toward the divine."
Father Damian is an iconographer whose numerous works are featured in churches and collections around the world. He was introduced to iconography in 1988 when he joined the Monks of Mount Tabor, a Ukrainian Catholic religious community at the Holy Transfiguration Monastery in northern California. The community's iconographer became cantor and suddenly there was a need for someone to paint. Father Damian later served in a social service agency in the Tenderloin, one of the toughest neighborhoods in San Francisco. It turned out that one of the men to whom he served soup was a master iconographer that also shared his knowledge of the art.
This upcoming icon retreat takes place at Spirit Center Aug. 17-22, at the Monastery of St. Gertrude in Cottonwood. All materials provided and no artistic experience needed. Suggested donation: $530. For information and to register, visit www.Spirit-Center.org or call 962-2000.