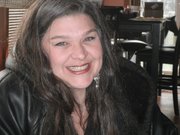 WHITE BIRD — We are smack dab in the middle of our fifth fire season. Hopefully it'll be done soon. That's all I've got to say about that.
The summer is coming to a close. School starts Aug. 27. For me, this summer has just gone by in a blink. I can't believe we've already got to start thinking about a routine. Yuck.
Lonnie's Corner Deli is continuing to be a wonderful addition to our community. You can only get Steve's awesome breakfast on Sundays though, so be sure and mark it on your calendar. Sunday breakfast is from 8-11 a.m. There is also taco Tuesday that starts at 5 p.m., and every Saturday night is now going to be steak night. You can get a fantastic pizza any day of the week. Treat yourself at Lonnie's Corner Deli!
Canyon House is having their annual summer clearance, back porch and yard sale in the gazebo this Saturday. Out with the old, to make room for the new! It will be from 8 a.m. to 5 p.m. Come on in and see what's new, grab a huckleberry ice cream cone, and get that item you've been wanting for a super great price.
The library is getting ready to start next year's calendar. If there are any changes you'd like to make call Leah Harvey at 839-2285. If you would like to add birthdays, anniversaries or events, now is the time. I just want to add that this is a local calendar. So if the name of your grandkids who live in Tennessee, and were never a resident of this area, are on our calendar, could you call Leah and have her take those kinds of names off. We know you love them, but we don't even know who they are.
The Salmon River Art Guild would like to invite you to participate in its 50th regional art show and silent auction. Your art will be accepted Friday, Oct. 3. It will be held at the Riggins Community Center behind the Chevron station. It will be from 9 a.m. to 4 p.m. and there will be a reception dinner following at 5 p.m. This is our time, not Mountain Time. For information about entering the show, the cost and reservations for the dinner, e-mail srag.Idahoatgmail.com or call 839-2493 or 839-2414.
Happy birthday this week to: Steve Withers, Keith Shultz, Clint Sickels, Dennis Harvey, Laura Brown, my mom and dad's "good daughter," Gail Lowe, Denise Fehrenkamp, Logan Moline, Jack Reese, Cheryl Bransford and my pa, Neal DeWitt.