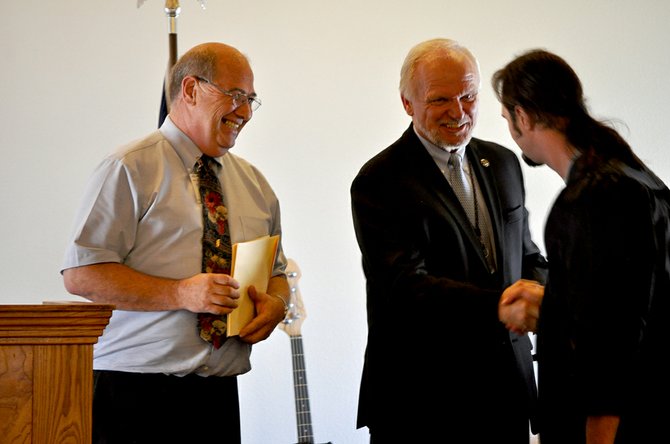 Photo by David Rauzi
NICI retirees are brought up for recognition by NICI Warden Lynn Guyer (at podium).
COTTONWOOD – Marking four decades of operation, North Idaho Correctional Institution (NICI) invited the public on campus last week to showcase its efforts to help positively redirect convicted felons away from criminal behaviors. Coinciding was a GED graduation ceremony for 10 inmates, featuring guest speaker Brent Reinke, director of the Idaho Department of Correction (IDOC).
"Every day depends on how we start that day," he said. "And much of that depends on attitude."
Speaking to a diverse audience – inmates, present and retired NICI staff and volunteers, members of the public – Reinke displayed to the group his well-worn prop: Jenga, a stacked wooden blocks construction game. As much as any skill required to play, to win you need to have the foundation, he said, and he translated this to inmates' lives as the success they will or won't experience on leaving the facility depends upon what they base their lives on. The theme for the day was vision, he said, and for those currently going through the program, to reach this goal requires a change in attitude – "I know you have, you need to double-down," he said — as well as exercising patience.
"Every day you're here, practice that patience with those around you," he said.
Reinke emphasized the facility's mission as a cooperative effort.
"Somebody in this room cares about you," he said to inmates. Staff provide the tools to help inmates make right choices who then need to make determined efforts to enact change, which not only benefits them but, according to NICI Warden Lynn Guyer, for those with children it helps break the generational cycle of criminal behavior and reduces the odds that, "they'll go through our system," Guyer said.
"Reaching the vision of this organization is you," Reinke said, "one person, one family, one community at a time."
NICI reported 81 guests attended last Thursday's Aug. 7 open house commemorating NICI's 40th anniversary. The facility atop Cottonwood Butte started in the 1950s as a U.S. Air Force radar station, changing into a Job Corps work camp in the mid-1960s and early '70s until changing hands to IDOC into a minimum security facility, which received its first inmates in early 1974.
NICI incarcerates those sentenced to retained jurisdiction of 180 to 365 days, who are evaluated for determination to be either eligible for probation or to serve their pending prison sentence. During their time, inmates go through programing depending on need, whether for counseling for anger management, substance abuse or sex offenders; as well as receive vocational training and completion of secondary education.
From the start, education has been a key component for the program that from its beginning, according to Guyer, has awarded a total 5,600 GEDs.
In relation to facilities across the state, "The vast majority of our GEDs," Reinke noted, "are generated in Cottonwood."
Prior to the GED ceremony, former NICI staff were recognized, and volunteers were commended.
"We can only do so much with the staff we have," Guyer said, who praised volunteers for their dedication and efforts that have improved on the program's success. The good work being done at NICI, according to Reinke, is blend of commitment, programing and great leadership that is "dedicated to changing lives."