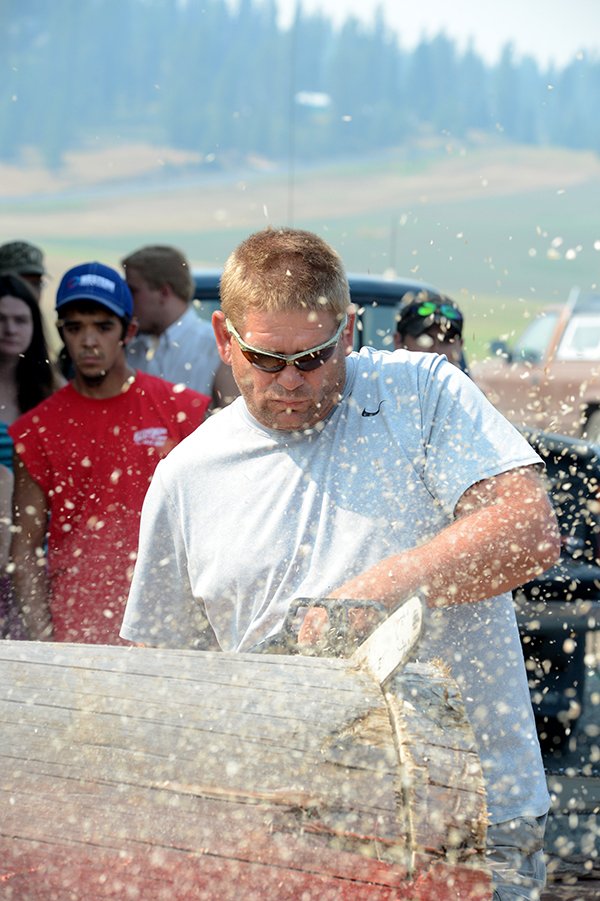 Photo by Andrew Ottoson
Sawing Logs: Elk City Days Mark Thornton of Elk City ripped through this log in about 25 seconds last Saturday, Aug. 9, during the 4.5-5.5 power saw event at the Elk City logger games competition held as part of the annual Elk City Days celebration. All our Elk City Days photos are for sale online at buyfreepressphotos.smugmug.com.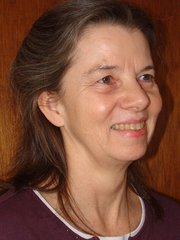 Photo Gallery
Elk City Days 2014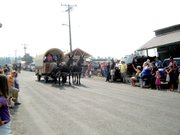 A quick look at the celebration provided by Jamie Edmondson, Idaho County Free Press correspondent.
ELK CITY — I begin this article on a sad note on the death of Joanne Johnson. We send our prayers to her family.
Well, Elk City Days saw quite a few visitors in town! The parade was great with many entries. Thanks to everyone who planned, worked hard, participated, and came to watch and/or participate in the festivities.
Thanks to grand marshals, Rolf Olson and David Newbigging, for participating.
The American Legion Post 153 would like to thank the spectators and contestants for making our show successful. Also, thanks to your help, Pat Doherty, for loan of Grandfather Major and the Anderson family for splitting wood.
The results of the Logging Competition are as follows:
Peewee Rolling Pin Toss – McKenzie Woody (1 pt.); Kids Rolling Pin Toss – Bryan Thompson (3 pts.); Women's Rolling Pin Toss – Alyssa Stible (3 pts.); Kids Choker Setting – Brenton Overall (17.45 sec.); Women's Axe Throw – Amy Thompson (5 pts.); Men's Axe Throw – Tim Williams (11 pts.); Choker Setting – Jake Farmer (9 sec.); Jack and Jill Crosscut – Joan Gill and Matt Jamison (58.44 sec.); 3.5-4.5 Power saw – Adam Perry (26.6 sec.); Father and Son crosscut – Robert and Jacob Jury (1 min., 46 sec.); 4.5-5.5 Power saw – Mark Thornton (25.5 sec.); Women's Crosscut – Joan Gill and Carolyn Howe (1 min., 50 sec.); 5.5 – up Power saw – Charley Poxleitner (19.34 sec.); Men's Crosscut - Cade Whitaker and Adam Perry (1 min., 15 sec.); Wood Splitting – Jake Farmer, Mark Thornton and Cade Whitaker (4 min., 45 sec.); All Around Trophy goes to Jake Farmer. I'll feature other results as they come in.
The Quilt Club, Sew Help Me Quilters, did it again! Hope you got uptown to see their display. The People's Choice Awards are as follows:
1st, Sue Phillips; 2nd, Donna Beeler; 3rd, Lis Bierbower. And the Quilt Challenge award: 1st, Donna Beeler; 2nd, Carol Moore; 3rd, Jane Fender. The raffle quilt winner is John Master from Harrisville, Penn.
Meetings: Idaho Food Bank.
Birthdays: Justin Phillips and Bryn Parker.
Anniversaries: Mark and Jill Wilson and Loren and Cocoa Anderson.
History: continued about fish: Upper Burnt Knob Lake was only stocked in 1965 and 1966 with cutthroat and unspecified rainbow. The lower lake was stocked beginning in 1934 with cutthroat and unspecified rainbow up until 1976. In 1982 it was stocked with Henrys Lake Cutthroat and from 1985-2011 it was Westslope cutthroat. They came mostly from McCall with some from Eagle and Grangeville. Crystal Lake was stocked from 1928-1968 with unspecified rainbow and brook trout with some cutthroat in 1935 thrown in.