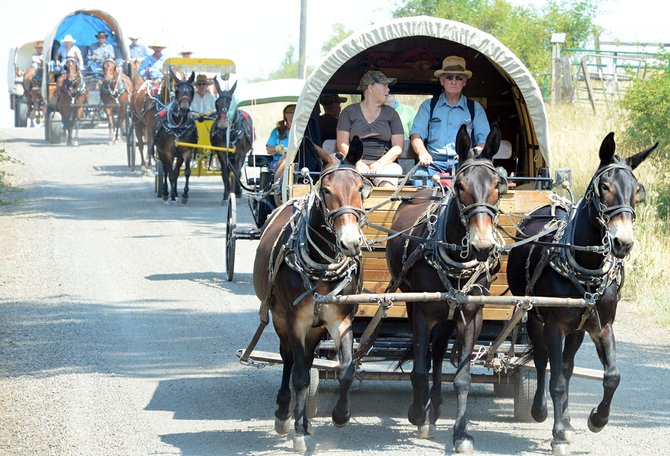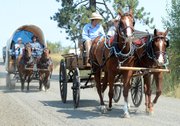 CLEARWATER — "A few years back, some Mormon kids wanted to reenact it," Bruce Graham said. "I got volunteered to cook."
The plan was to take a wagon train across some of the high parts of Idaho County, following much the same route as that marked out by wooden wheels during the days freighters out of Harpster and Stites supplied prospectors in Elk City during the bygone gold mining boom. This was the primary route to and from the frontier town until the riverside road, State Highway 14, was completed in 1932.
The reenactment went off well enough that several wagon hobbyists — decided to do it again this year.
"Dale Cooper hauled the gear that year, and the kids walked," Graham said.
Last Wednesday, Aug. 6, Graham, Kooskia-area wagonmaster Dale Cooper and a total of a half-dozen or so horse-powered vehicles set out to make it two years in a row.
They hitched up and departed from about a mile east of Clearwater at about midday, and reached Elk City in time to ride in the Elk City Days parade last Saturday, Aug. 9.
Jim Gribble, a director of the Friends of the Elk City Wagon Road group dedicated to keeping the road open, delivered some supplies and saw the wagon train off. An automobile-powered Wagon Road tour is the focal point of Clearwater's annual celebration, a.k.a. Elk City Wagon Road Days .
While the horses required rest, automotive travelers can make a 4-6 hour day trip of it with little more than a vehicle of suitable ground clearance, a full tank of gas, boots, binoculars and sack lunches.
From the South Fork Clearwater River at Harpster, the route climbs and descends 53 miles, coming within about a half-mile of one of the highest points in Idaho County — Pilot Rock (elevation ~7,000 feet) — before dropping down to the old Newsome townsite, little of which remains apart from private property.
The Forest Service maintains facilities at one of the earliest overnight stops constructed on the freight route, the pre-1890 Newsome Cabin, 32 miles into the trip, Early homesteads popped up in 1896 as way stations at Switchback, Mountain House, Corral Hill and Mud Springs, according to material provided by Forest Service archaeologist Cindy Schacher.
"A stage trip from Stites to Elk City took two days in the summer," the Forest Service's pamphlet, available at http://www.fs.usda.gov/Internet/FSE_DOCUMENTS/fsm91_055711.pdf, reads. "Leaving Stites at 6 a.m., the stage arrived at Mountain House by noon and at Newsome by nightfall. There, travelers spent the night."
It took five days by sleigh during the winter, with stops at each of the stations named above. The fare was $6 in 1910.
Cooper, the modern wagonmaster and no stranger to horse travel, appreciates the steps the "Friends" group takes in support of making the area's heritage sites accessible by car; he pitches in with maintenance — mainly cutting out the trail after winter lifts. He has run other modern wagon routes, including the Weiser Wagon Road Ride, which follows an old railroad grade between Weiser and Council.
"I've been on a few," he said, "and people enjoyed it here last year and people wanted to do it again this year."
Participants furnish their own wagon or buggy, their own horses, and their own supplies. And before they set out on Aug. 6, they were excited to find out what Graham would cook up next.