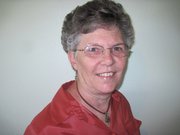 COTTONWOOD — AWANA Club night is starting again. First club night is Wednesday, Sept. 10, 6:30–8 p.m. What is AWANA? It is an international, non-denomination ministry for children, ages 3 through high school. It consists of learning God's Word, strengthening faith and lots of fun game time. AWANA Club is one of the best kids programs available. If you'd like to learn more about AWANA, you can find it at www.awana.org or call Steve Halligan at 553-2882. The AWANA Club meets most Wednesday evenings during the school year at Emmanuel Baptist Church, 404 Foster, Cottonwood. Hope to see you there.
It's fair week so I know everyone is busy. Come and enjoy the fair and all the good food at the 4-H booth, Lion burgers, Prairie Booster Club potato bar, Idaho Lewis County Cattle Association barbecue or the Cottonwood Community Church's haystacks. You gotta have at least one scone, too. There will be a skydiving event out at the airport this year to help celebrate the 80th anniversary of the fair. Do you remember when the fair was downtown in the area along the creek?
Friday night is Hot August Nights in Lewiston. The Summit Academy hot rod will be there. That is one cool car. Time is running out to get your chance to win this car for just $10. Someone is going to win it, so it may as well be you.

How is your garden doing? That storm last week probably didn't do much good for some of you. We didn't get hail but it sure rained. This is a picture of some spinach leaves in my garden this year. I have never seen leaves that big. There is a 12-inch ruler lying between them.
We went camping in the mountains behind Grangeville for a few days. We had a great time catching fish and picking huckleberries. This is the best year ever for huckleberries.