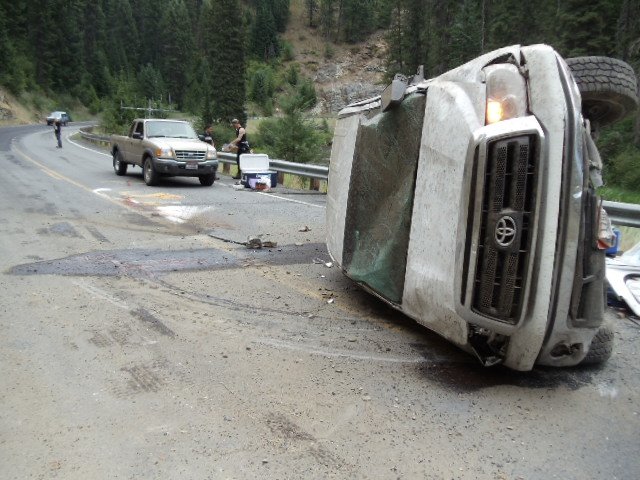 Inattentive driving was cited as a factor in last week's rollover pickup accident on State Highway 14 that injured a man and two teens en route to an Idaho Department of Fish and Game youth salmon camp at Elk City.
The driver, Timothy G. Cochnauer, 69, and passengers, Bryce A. Watkins, 15, and Gregory L. Warden, 14, all of Lewiston, were all transported to Syringa Hospital in Grangeville by Elk City Ambulance. The trio were treated for minor injuries and released.
Cochnauer, a retired IDFG Clearwater Regional Fish Manager, was a volunteer instructor for the camp. At the time of the accident, he was transporting the teens to the department's Red River Wildlife Management Area.
The Tuesday, Aug. 12, incident was reported at 2:28 p.m. at milepost 41, according to an Idaho County Sheriff's Office (ICSO) report. Cochnauer was driving a 2010 Toyota Tundra eastbound, trying to locate several drainages and creeks to orient himself, when he realized the pickup was off the roadway. Instead of overcorrecting and possibly going into the river, Cochnauer reported he chose to crash into the rock wall on the side of the roadway.
Investigation showed the pickup travelled approximately 15 feet up the embankment until it hit a rocky outcropping that caused the vehicle to roll one and a quarter times, coming to rest on its passenger side in the roadway.
All three occupants were wearing seat belts, and vehicle airbags deployed for each. Cochnauer suffered a hand fracture and a vertebrae compression fracture in the crash.
Cochnauer's actions to keep the truck out of the river were complimented by Jen Bruns, IDFG Regional Conservation Educator, as well as the assistance to him by Watkins and Warden.
"Both of Tim's young passengers were heroes themselves as they helped Tim out of the truck, which rested on its side in the middle of the road," Bruns stated in a press release.
ICSO Deputy Gideon Roberts investigated the accident. Dale's Rescue Towing provided wrecker services.
•
The Idaho County Sheriff's Office (ICSO) investigated two unrelated injury vehicle crashes earlier this month in White Bird and Kooskia.
WHITE BIRD — Alcohol impairment is a possible factor in an Aug. 10 single vehicle rollover accident in White Bird.
Driver, Jenna I. Kersten, 25, of McCall, and Trinity M. Willhoyt, 22, of Boise, were injured in the crash. Kersten was taken by helicopter to St. Joseph Regional Medical Center in Lewiston where she was admitted and discharged on Aug. 13. Willhoyt was transported by ambulance to Syringa Hospital in Grangeville where she was treated and released.
Neither woman was wearing a seat belt.
The crash was reported at 4:19 p.m. that Sunday on Cooper Street, according to an Idaho County Sheriff's Office (ICSO) report. Kersten was driving a 1992 Toyota 4Runner westbound and passed a witness "at a fast rate of speed," according to the report, and failed to negotiate the curve. The Toyota left the roadway where it struck a utility trailer, and both of these traveled east into the ditch where the vehicle rolled one and a half times, coming to rest on its roof.
ICSO Deputy Sam Clark investigated the crash, assisted by White Bird QRU. Dale's Rescue Towing provided wrecker services.
KOOSKIA — An injured Kooskia motorist lay trapped for hours following an Aug. 9 crash until discovered.
Aaron A. Guthrie, 20, was transported by helicopter to St. Joseph Regional Medical Center in Lewiston where he was admitted for treatment and discharged Aug. 12.
He was not wearing a seat belt.
The crash occurred at 2 a.m. on Leitch Creek Road four miles northeast of Kooskia, according to an ICSO report, and police and EMS personnel were dispatched an hour and 15 minutes later. Guthrie was driving a 1997 Dodge pickup northeast when he fell asleep and drifted off the road. The pickup rolled onto its top into the dry creek bed, during which Guthrie was partially ejected with his arm trapped between the roof of the truck and the ground. He estimated he was trapped for approximately one and a half hours until a passerby saw the truck and called 911.
EMTs broke out the passenger side window and extricated Guthrie through the passenger door.
ICSO Deputy Randy Long investigated the crash with help from the Kooskia Fire Department.