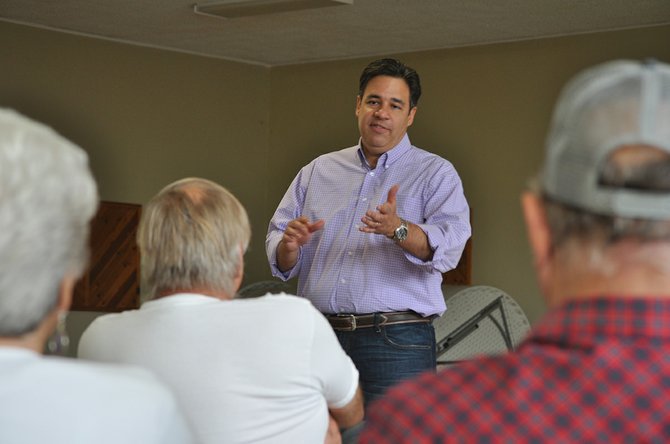 Photo by David Rauzi
U.S. Representative Raul Labrador (R) answers a constituent's question at last Friday's town hall meeting in Cottonwood.
COTTONWOOD – Immigration, national debt and public lands issues were among the concerns raised by attendees at last Friday's town hall meeting, hosted by U.S. Representative Raul Labrador.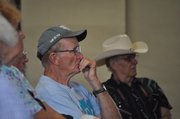 Approximately 46 people attended the one-hour meeting Aug. 15 at the Cottonwood Community Hall, kept hopping by the two-term Republican congressman fielding questions and providing direct answers, as well as by directing constituents to his present staff for follow-up assistance.
On a continuing issue, immigration, Labrador talked on support for legal immigration efforts, such as reforms to the guest worker program, which is important to the nation's economy, as well as addressing illegal entry – which fosters a black market economy that hurts the U.S. — by improving border security. He criticized President Obama's expansion of DACA (Deferred Action for Childhood Arrivals) — which protects from deportation certain categories of illegal immigrants brought here as children – as well as a $3.7 billion Senate proposal to house these children that encourages the "flood gates to open up." Regarding the recent issue with unaccompanied illegal immigrant children, this year there have been 90,000 and estimates for next year are 150,000.
"Our message is that we will not grant you amnesty," Labrador said as regards House efforts on illegal immigration, "…and we hope the Senate takes up something similar."
Questioners addressed aspects of the national debt, which Labrador said has been addressed in the past few years, dropping the deficit from $1.3 trillion in 2010 to around $490 billion this year.
"Am I happy with $490? No, but it's better than $1.3 trillion," he said. More budget control is needed to address spending in entitlement programs not currently under discretionary spending. Labrador said everyone wants to control spending, but when you ask them where to cut they respond foreign aid and "somebody else's program." He clarified foreign aid is less than 1 percent of the money spent in the U.S. budget, and cutting this would not help address entitlement programs, such as Social Security, that are growing exponentially.
"The bad news is if we don't reform entitlement programs," Labrador said, "they are going to continue to grow. We need to do something."
Federal lands issues drew the ire of several in attendance, to which Labrador discussed his work on a pilot project to put 200,000 acres of federal land into state management to demonstrate good stewardship at the local level. The bill has been passed out of the House twice but not out of the Senate yet, he noted, and part of the problem is many states don't understand the unique situation of the West where a large percentage of land – Idaho at 62 percent — is under federal management.
Labrador's time in Washington, D.C., has changed his mind on one issue: term limits. Questioned on this issue, he explained that at first he was opposed to term limits, noting his experience with the Idaho Legislature that its makeup "changes drastically every five to 10 years…. I thought it was a good system for the citizens to decide who to kick out." But since being in D.C., he noted that power and money make it difficult to defeat an incumbent. He would propose 12 years for both House and Senate members.
"I think that's sufficient time," he said, "… and it gives a new generation an opportunity."
Discussing the issue of voter fraud, raised by attending State Senator Sheryl Nuxoll, Labrador said requiring state voter ID has helped tremendously, and that it has been ruled constitutional every time it has been challenged. However, where fraud exists its impact is seen where the difference in the margin of votes is small, he explained, continuing that the way to combat this is by candidates providing voters the reasons to get to the polls.
One woman raised concern with the growing militarism of police agencies, which are supplied by surplus U.S. military equipment, and questioned Labrador on whether this would be best to handle as a states' issue or through the House. Labrador said coincidentally he and his staff were discussing this en route to the meeting – "We've not decided what to do about it," he said – and that a bill has been drafting concerning the issue.
Among some other issues discussed during the meeting including EPA definitions on navigable waters and its prohibitions on suction dredge miners working in rivers, impeachment of President Obama and on veterans' benefits.