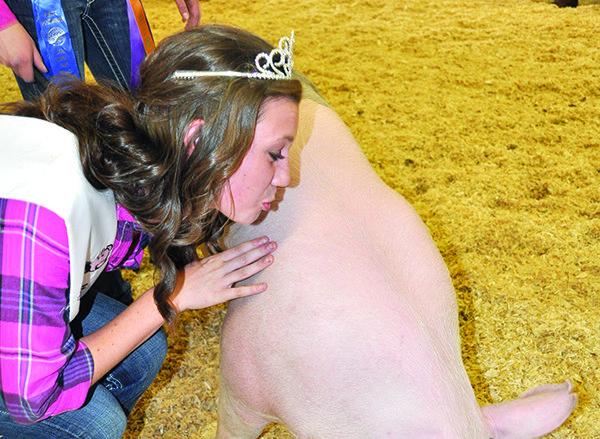 COTTONWOOD – Jazzin' It Up at the Idaho County Fair is the theme for this year's fair which starts today, Wednesday, Aug. 20.
The fair will open at 8:30 a.m. with the ribbon cutting. Those entering exhibits for 4-H and open class can do so from 9 to 11 a.m. and 9 a.m. to 12:30 p.m., respectively. The dog and rabbit shows take place at 9:30 a.m. in the Vernon Agee Pavilion followed by the poultry show at 1 p.m.
Girls of all ages can enter the annual pigtail contest set for 1:30 p.m. in the Arena Building. Livestock weigh-in will run from 3 to 8 p.m. and the 4-H Fashion Show is set for 7 p.m. in the Arena Building.
Thursday, Aug. 21, will start off at 8:30 a.m. with livestock fitting and showing which will continue throughout the day. Smiles the Clown will be at the fairgrounds from 2:30-5:30 p.m. The popular Two-Minute Talent Show, featuring local acts, will be held at 7 p.m.
Livestock judging will begin at 8:30 a.m. Friday, Aug. 22 and will be followed by quality judging. LifeFlight will be at the Prairie football field starting at 1 p.m. for tours. Championship horse fitting and showing is set for 1 p.m.
A potato bar sponsored by the Prairie Booster Club is set for the city park directly across from the fairgrounds from 4-7 p.m. The band Beargrass will perform at 5 p.m. followed by the royalty evening and crowning starting at 7 p.m. in the Arena Building. Following crowning, all 4-H'ers are invited to don green attire and head over to the Agee Livestock Pavilion for the Green Swing Dance sponsored by the 4-H Ambassadors.
Saturday, Aug. 23, the Idaho County Fair parade will begin at 10 a.m. on Cottonwood's Main Street. A beef barbecue sponsored by the Idaho, Lewis County Cattlemen's Association is set for noon to 2 p.m., at the park. The 4-H/FFA Livestock Sale will end the fair, starting at 1 p.m. All exhibits should be picked up between 4 and 6 p.m.