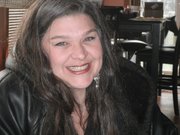 WHITE BIRD — This is the very last column of the summer. Next week at this time, the kids will be in school. Wednesday, Aug. 27, is their first day back. How crazy is that? This summer just flew by! There's still time to go for that boat ride and jump in the river though.
Another reminder to call Leah Harvey if you have changes or additions for the 2015 community calendar. You can also call the library and leave a message at 839-2205. This is a big fund-raiser for the White Bird Library. If you would like to purchase a calendar, you have the option to add five listings, including birthdays, anniversaries or memorials. Or you can buy a calendar without your birthday, anniversary, etc.... The library would like to thank all the advertisers and sponsors as well as everyone who purchases a calendar. Without you we would not be able to keep our library doors open. We'll soon be sending the calendar off to our printers so that we can have them back before Thanksgiving. So, get your information ready and phone it in.
I'm sorry that I don't have more happening for you this week. I'm sure as soon as we get back into the mundane routine of school and work, there will be more time to drum up some news. For now, I wish everyone a wonderful week and grateful heart, for all the blessings that are on their way.
Happy birthday this week to: Aunt Laurie Bonwell, Dianna Byrns, Jane Carlson, O.C. Abbott, Kadie Whinery, Jessica Robinett, Jake Schacher, Forest Wilson, Kylie McClanahan, Bill Asker, Danny Booze, Gary Cook and Mike Wilt.