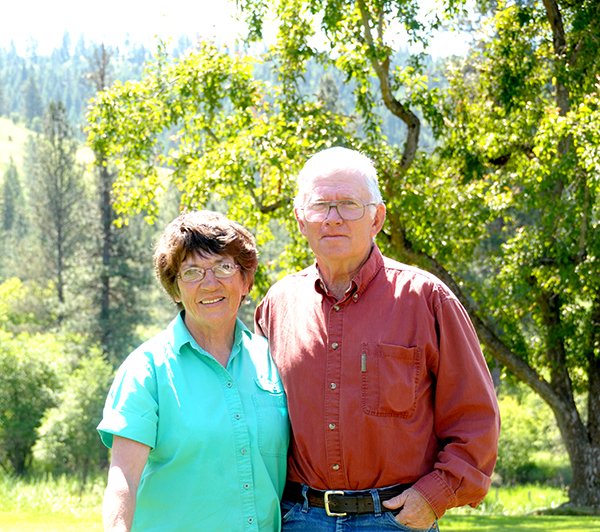 LUKE'S GULCH – Nestled between the towns of Stites and Kooskia on the banks of the Clearwater River may just lay the best place on earth. Just ask Chuck Pratt.
"I don't think there is anywhere better than here," smiled Chuck. "I know there's nowhere I would rather be."
Chuck and Jane Pratt are the 2014 Idaho County Fair grand marshals.
He was born in Cottonwood to Albert and Cora Pratt and as a child moved to the home area on the river where they now live. Part of the ranch land has been in the Pratt family for more than 108 years.
She was born in Montana and raised in Grangeville by parents Ed and Zona Chedsey who owned the Idaho Motel.
The couple met in high school when Chuck was a senior and Jane was a freshman. They have now been married 50 years.
"It has gone so fast," Jane shook her head.
"Time flies when you're working and raising a family," Chuck added.
The Pratts have two sons, Shaun, who now lives in Boise and works for Hewlett Packard, and Chad, who runs the cattle ranch now. Both boys grew up in 4-H and participating in the fair and the Pratts have five grandchildren now.
"We always go over to the fair, even when we no longer had kids or grandkids there," Jane said. "We enjoy it."
Though many areas of farming and ranching have changed, one thing in the Pratt's life, aside from their family, has remained a constant: "We have great neighbors," they said.
"We have been so fortunate to be blessed by wonderful neighbors throughout the years," Chuck said. "That has really restored by faith in humanity many times."