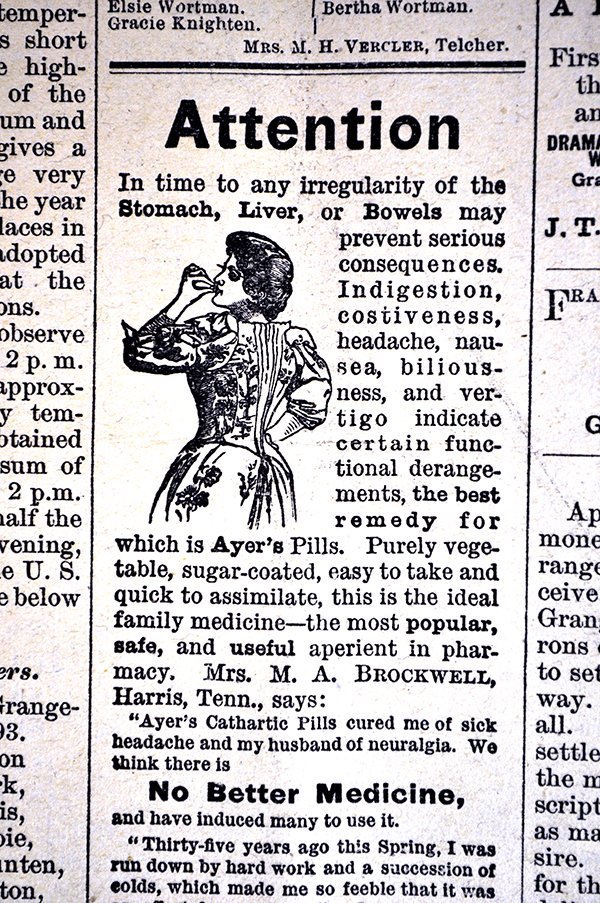 10 YEARS AGO
AUGUST 11, 2004
•COTTONWOOD – In a quiet dinner ceremony held last week, the family of USMC Pfc. Christopher J. Reed, 20, of Cottonwood who died in Iraq last month, received the Distinguished Service Award in his behalf for his sacrifice.
•Prairie High School senior-to-be, Eric Mader, won the Idaho High School Activities Association bareback title earlier this year. He placed 19th out of 136 in the National High School Rodeo finals.
20 YEARS AGO
AUGUST 10, 1994
•A new principal will be ready to greet Grangeville High School students when they come back to school this fall.
Gary Stears replaces Judy Leuck, who took on an assistant district administrator position earlier this year.
He brings with him his wife, Laura Kaye, and six children, Elizabeth, 12; Bart, 10; Brad, 8; Brian, 6; Erica, 3, and Emily, a newborn.
30 YEARS AGO
AUGUST 8, 1984
•Crowds were treated to an interesting display of airplanes and firefighters Sunday afternoon at the Idaho County Airport. The whole affair was in honor of Smokey Bear's 40th birthday.
40 YEARS AGO
AUGUST 14, 1974
•Larry Lehtola has been assigned to the Camas Prairie area by the Idaho State Police to replace Patrolman Tom Wilson, who has been transferred to Boise.
50 YEARS AGO
AUGUST 13, 1964
•Grangeville was the second wettest point in Idaho during July, weather statistics from Boise indicate. Lewiston ranked first.
•Millions of moths invaded Grangeville and tree owners are the ones who are worrying most. The moth is the adult stage of the spruce bud worm.
60 YEARS AGO
AUGUST 9, 1954
•Idaho County Free Press put out an extra to celebrate the dedication of the new courthouse. The extra came out on Monday.
70 YEARS AGO
AUGUST 10, 1944
•The O.F. Canfield house, built in 1899, was destroyed by fire. The building was a landmark on the Doumecq Plains. It was the first frame house in the forks of the river.
80 YEARS AGO
AUGUST 9, 1934
•Dredges of the Warren Dredging Company are working 24 hours per day transforming Warren meadows into a vast wasteland of gravel piles and the Idaho Gold Dredging Company is constructing a third dredge.
•Dr. O.M. Thurman joined the famous "Hole in One" club at the Grangeville golf links. It was at the seventh green the accident happened.
90 YEARS AGO
AUGUST 14, 1924
•Mr. and Mrs. J.F. Ailshie were presented to King George and Queen Mary in London on July 24. They are on a tour of Europe and were attending a session of the American Bar Association. The presentation was made while they were attending a party in the royal gardens, with other members of the bar meeting.
100 YEARS AGO
AUGUST 14, 1914
•Frank Pettibone, son of Commissioner Nate Pettibone, had a narrow escape from death Monday. He was assisting his father in harvest, and was asked to catch a horse belonging to Ed Hutchens who was at the ranch setting up a binder.
110 YEARS AGO
AUGUST 11, 1904
•Henry Meyer has finally struck water on his farm west of town. He has been at it for several years drilling to a depth of 400 feet. Recently he started to drill again and was burning his last firewood when the boys got water at 440 feet. He now has 40 feet of water and the well still filling.
120 YEARS AGO
AUGUST 10, 1894
•There are plenty of 10, 20 and 5 dollar bills here, but silver change is very scarce.