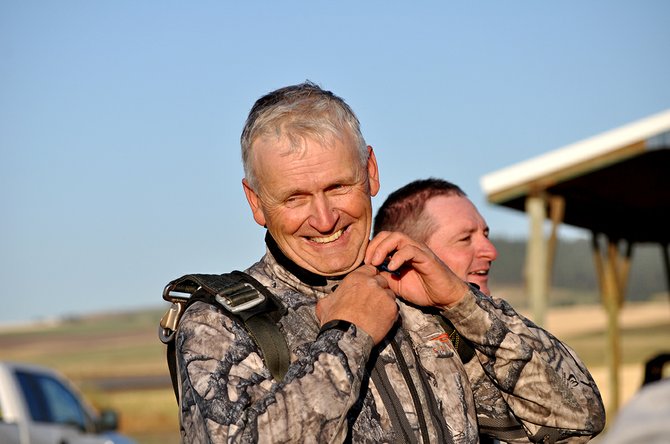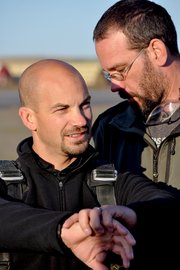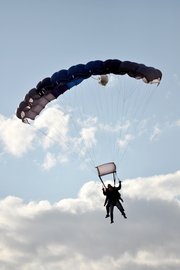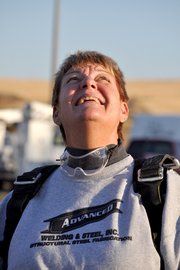 COTTONWOOD – Falling out of the sky isn't a circumstance for enthusiasm. Unless you're held in check by 350-plus-square feet of nylon parachute.
Then that's a time to be cheering.
"It was outstanding! I would do that again in a second," said Brad Arnzen of Grangeville. Just moments prior he landed, stirring up a poof of prairie dust, at the Cottonwood Airport after a tandem jump from nearly 12,000 feet that lasted nearly four minutes in duration.
Last Thursday morning, Aug. 21, Skydown Skydiving of Caldwell started two days' worth of jumps to area residents looking for the thrill and challenge of more than 35 seconds of freefall at an average 120 mph before the jolt, pop and ruffle of the parachute wafts them back to terra firma. Kicking off the flights Thursday — as a sunrise emerged from behind mountains cloudy with smoke from the Johnson Bar Fire — were four employees from the Grangeville Avista office, doing a lightheartedly self-described "team-building exercise" before the start of the work day.
Apart from Arznen, 55, line foreman, for whom this was his first jump, the remaining three each had a prior skydiving experience. Journeyman lineman Mark Paradis, 44, had one prior jump made during a Las Vegas trip with friends, and operations manager Dan Austin, 29, knew the rush from multiple jumps during his military service as an Army Ranger. But dispatcher Holly Cox was far and above the rest.
"This will be my 581st jump," she said, and it was also her first tandem jump.
Cox, 58, received her skydiving license in 1990 in California, and participated in formation and freestyle competitions in Davis. Her last jump was in 2005 in Caldwell; she gave up the sport due to the time and distance involved to keep it up.
"And I thought the last skydive I'd be taking would be my ashes being spread out," she laughed.
Cox became interested in skydiving as her father was a skydiver," so I knew what to expect," she said. On her first jump, following eight hours of ground school and subsequent hands-on instruction, "I had sensory overload so bad it was hard to remember all that stuff." Her dad didn't know whether she's be committed to stick with it, but after that first jump she was asking to go right back up.
"I was an Airborne Ranger," Austin said, and a jumpmaster, "but we did static line only," explaining the method of attaching the parachute deployment cord by hook to a cable; on jumping from the aircraft the chute immediately deploys. Although a self-described "adrenalin junkie," Austin – discussing this upcoming skydive the day prior — added the freefall aspect of this jump would be a new experience: "I don't know if I'm totally committed to it," he laughed.
Arnzen said he had always "kind of wanted to do this, and It's not going to get any closer to home, so I decided to give it a try."
And how was it for Cox, returning to the sport after an eight-year absence?
"It was so exciting to be back in the air. I got to experience it in a totally different way than usual," she said, being allowed – as were the others – to fly the canopy. "Maneuvering a canopy that big took a little more muscle, but it was still pretty exciting! The landing was the most anxious part for me; I'm so used to controlling my own landings. Having someone else taking over that control was the most exciting part! Of course, free fall is the best part ever!"
According to Denise Janes, Skydown Skydiving, 31 tandem jumpers participated last Thursday and Friday, ranging in age from 16 to 70; of these, 17 were men and 14 were women. Jump cost was $225.
"One of the men went twice in order to jump with his mom, who decided to join in the fun after she saw how much her family enjoyed their jumps," Janes said. "A couple of people had never been in a plane before—-kudos to them for electing to jump out on their first plane ride, too!"