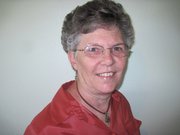 COTTONWOOD — Let me tell you about my day last Friday. I was sitting in this perfectly good airplane when someone opened the door — well, maybe I better start at the beginning. I have always wanted to go sky diving, hang gliding or bungee jumping. It's on my bucket list. For the fair this year they invited Skydown Skydiving from Caldwell to come and do tandem jumps to help celebrate 80 years of the fair. When I found out the opportunity was so handy, I just had to do it. It was sooooooo much fun. The free fall was my favorite part! I was flying like a bird from more than 10,000 feet, 120 mph going straight down. Good thing I had an experienced skydiver strapped to me. Anyway, the chute popped out and we floated down after making some circles to hit the exact spot he was aiming for and landed safely. My sister, Shirley Gehring, and two of her kids, Steve and Shari, went with me. Now I can look up in the sky over Cottonwood and say, "I was up there!" Sometimes you just gotta do it!
Holy Family School Foundation in Clarkston, Wash., is presenting "Sister Strikes Again; Late Nite Catechism 2." This very funny professional theater production will be at Clarkston High School auditorium on Sept. 13 at 7 p.m. Tickets are available at Holy Family School and parish, and www.entertainmentevents.com. If you have ever gone to a Catholic school, you will enjoy this.
Are you interested in playing pinochle? Sign up to join the Tri-Parish Marathon. Call JoAnn at 962-3846 by Sept. 8 if you would like to be part of this fun time.
The Idaho County Fair came to a close on Saturday with good attendance on all the days. Brooke Eades was named queen, Lauren Goldman, 1st princess, and Madison Ulmer, 2nd princess. Congratulations, girls! Have a great year. Winning the honor of kissing the pig was Prairie principal Carrie Nygaard. Oh, you are so lucky! Friday night Beargrass, a band from Latah County, kept everyone entertained with some classic country music.

With the start of the school year the Tri-Parish is starting Rite of Christian Initiation (RCIA) classes. It is for people who want to find out more about the Catholic faith. The process begins with "Inquiry" period, when questions lead to exploration. This class is for adults who want to become Catholic, anyone who wants to be confirmed or to just learn more. Contact Joe Seubert or anyone in the parish office at 962-3214.