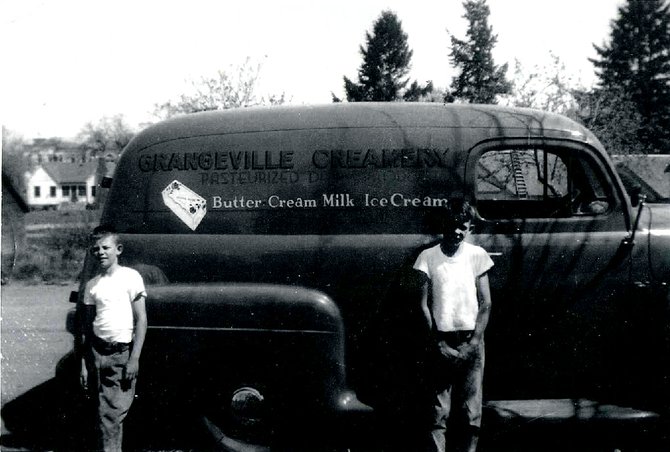 10 YEARS AGO
AUGUST 24, 2004
•GRANGEVILLE – Hannah's Closet, owned by Bambi Baker, recently moved to the former Sisters Vineyard located across from Pioneer Park and the swimming pool.
•COTTONWOOD – Carolyn Sonnen was crowned Idaho County Fair Queen for 2005 while Amanda Cook is first princess and Sarah Forsmann will serve as second princess.
20 YEARS AGO
AUGUST 24, 1994
•With the flag flying high, a motley assortment of cars paraded around the Prairie Motors Sports arena before the demolition derby on Saturday.
Best of show included Wes Weeks in the subcompact division and Shawn Wassmuth and Rob Woollett in the full-size division.
30 YEARS AGO
AUGUST 22, 1984
•Sherwood Johnson and "alligator" stopped in at the Free Press for a visit recently. The alligator has now made his second trip to the Idaho County area, probably a record for any alligator.
40 YEARS AGO
AUGUST 28, 1974
•KOOSKIA – Mike York, 9, son of Mr. and Mrs. David York, Kooskia, recently returned from the Cascade "Little Britches" Rodeo, held Aug. 10, with the 1984 Valley County Sportsmanship Trophy for exhibiting outstanding sportsmanship throughout the affair.
50 YEARS AGO
AUGUST 27, 1964
•The adventurous spirit of youth was vividly displayed by three young cyclists from Missoula this week when they peddled their bicycles to Grangeville from their hometown.
The three youngsters, Kerry Moon, 13, Steve Tulley, 14, and John Swift, Jr., 13, left Missoula at about 7:30 a.m. Monday and arrived in Grangeville, tired but happy at approximately 6:15 Thursday evening.
60 YEARS AGO
AUGUST 26, 1954
•Hub Warner, owner, and David Dodd, chief engineer for Grangeville KFWR radio station, are supervising completion of their building at the west edge of the city.
•Mayor R.D. Williams has called a public meeting at the courthouse to discuss teenage problems. The meeting was called because of a series of tragic accidents resulting in the death of teenagers.
70 YEARS AGO
AUGUST 24, 1944
•Grangeville firemen and volunteer helpers waged a four-hour losing battle Tuesday afternoon with a fire which started at 4 o'clock in the basement of the Blue Fox Theatre and gradually worked upward and then along the roof, most of which collapsed, leaving only walls and a jumbled mass of once beautiful Spanish-type structure.
80 YEARS AGO
AUGUST 23, 1934
•Women's Community Club will have their annual flower show at the library.
90 YEARS AGO
SEPTEMBER 3, 1924
•Racing program at the Idaho County Fair will be the best in history. Horses from all over the northwest will be on hand for the contest.
•Votes for Grangeville queen candidate for the Idaho County Fair are coming in fast. In the running are Julia Derrig, Claire Heath, Aurelia Kabat, Pauline Manning and Veata Wilson.
100 YEARS AGO
AUGUST 27, 1914
•Some mighty sensational developments are expected in the trial of a Salmon River man arrested for cattle rustling. Stockmen are determined to put an end to organized stock rustling.
110 YEARS AGO
AUGUST 25, 1904
•All children who will be 6 years old prior to or during the month of January, 1905, shall be allowed to enter school with the receiving class at the opening of school Sept. 5, 1904.
•We condemn the extravagance and incompetence of the Republican administration and ask the people to compare its record with the six years of a wise and economical Democratic administration.
120 YEARS AGO
AUGUST 24, 1894
•The huckleberry crop is almost a total failure.
•The Keith brothers from Doumecq Plains and the Snake River country are displaying a large number of opals discovered on the plains. There is quite a bit of excitement.