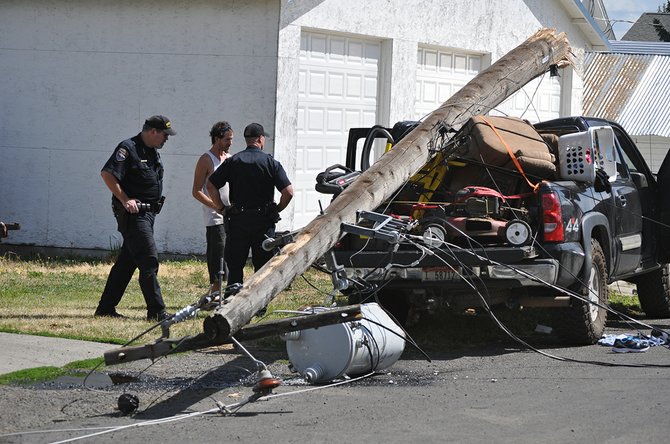 Photo by David Rauzi
Chief Morgan Drew and Officer Paul Orgish, Grangeville Police Department, investigate the crash scene last Thursday with the driver, Christopher R. Parrish.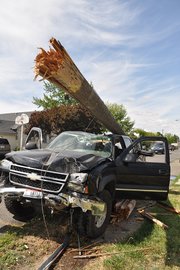 GRANGEVILLE – Anger is a suspected factor in a vehicle accident last week that resulted in a minor injury, a neighborhood power disruption, thousands of dollars in utility damages and the arrest of the driver on multiple misdemeanor charges.
As a result of the incident, Christopher R. Parrish, 28, of Grangeville, is charged with reckless driving, possession of a controlled substance (marijuana) and possession of drug paraphernalia. He is out on $500 bail, awaiting a Sept. 2 pretrial hearing on these charges.
Injured in the crash, wife and passenger, Jeannie Parrish, age unavailable, was treated and released at Syringa Hospital.
Last Thursday, Aug. 21, 11:41 a.m., Cathy Meisner reported a vehicle had crashed into a utility pole at 415 West North 6th Street. The resulting crash sheared the pole near the base, causing it to fall into the cab and come to rest off the back of the black Chevrolet pickup. Both driver and passenger airbags deployed. The pair was wearing seat belts.
According to court records, Christopher reported to police he had just been kicked out of the residence there and was putting his belongings into his pickup, backed up into the garage, to move them to a storage unit. He then turned eastbound onto West North 6th but cut the corner and struck the pole. The vehicle then traveled another 11 feet before being stopped by the pole guide wire that was anchored into the ground. A witness reported Christopher was "extremely angry" prior to the accident, and was heard to have revved his engine prior to leaving the driveway.
Earlier that morning, Christopher had been cited for inattentive driving by police following a minor crash he was involved in on West North Street. Christopher was arrested for this latest incident, and during a search police allegedly discovered an unspecified amount of marijuana and a glass pipe on his person.
Collapse of the pole caused a power disruption to eight nearby Avista customers, to most of which power was restored in two hours and the remainder 4.5 hours after the incident, according to Dan Austin, operations manager. Initial damage estimates are around $10,000.
"Our crew had to replace the pole itself and all of the equipment attached" Austin said, which included the transformer. "All of the repairs made were permanent. The crew responded very quickly, and although they were shorthanded they made quick work of the downed pole. Incidents like this are a testament to the vast knowledge and experience our lineman here in Grangeville have."
GPD Officer Paul Orgish and Chief Morgan Drew investigated the incident. Syringa Ambulance provided scene medical service and transport.