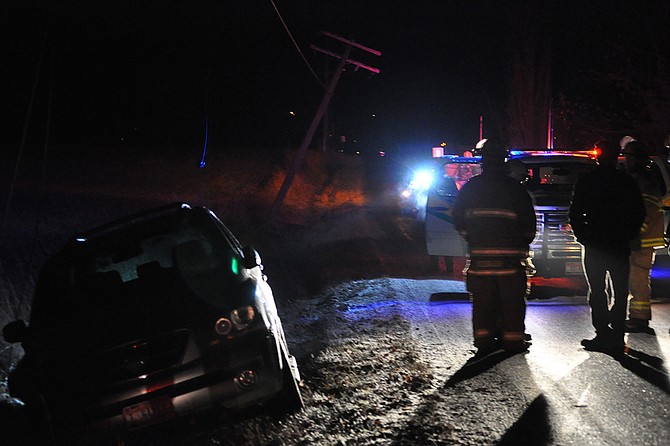 Photo by David Rauzi
Mt Idaho Grade Road at Grangeville was intermittently blocked Saturday night, Nov. 29, after a vehicle went off the icy roadway and sheared off an Avista utility pole, disrupting local power service for more than three hours.
GRANGEVILLE — A charge for excessive DUI is pending against a Grangeville man who crashed his vehicle into a utility pole Saturday night, disrupting local power service for more than three hours.
Albert L. Lindstrom, 56, was uninjured in the Nov. 29 accident reported at 6:18 p.m. on Mt. Idaho Grade Road near the intersection with East Maple Street, according to an Idaho County Sheriff's Office report.
Lindstrom was driving a 2004 Kia Sorento northbound when, according to his statement, he swerved to miss a deer, lost control of the vehicle on the icy roadway, and went off into the right ditch where he sheared off the wooden utility pole at its base. Due to a power line lying across the vehicle, Lindstrom was advised to stay in the vehicle and the Grangeville Volunteer Fire Department was dispatched for assistance. An Avista Utilities lineman, shortly after, determined the line was not a safety hazard.
Debbie Simock, Avista spokesperson, said 349 customers in southwest Grangeville and on the Mt. Idaho Grade were without service from 6:11 to 9:20 p.m. The damaged pole was removed and the line was reinforced pending support replacement, which Simock said shouldn't have an impact on customers.
According to the ICSO report, Lindstrom reported having been drinking whiskey, and he failed a portion of sobriety tests administered by ICSO Deputy Troy Roberg. Breath test analyses conducted at the scene allegedly reported Lindstrom's blood alcohol content at .242 and .240. The legal BAC limit is .08, and excessive DUI, a misdemeanor, is charged at .20 or greater. An open bottle of Black Velvet whiskey was allegedly found in the vehicle.
Lindstrom was wearing a seat belt. Vehicle damage was reported to exceed $1,500. Pole damage was estimated around $2,000
The Grangeville Police Department assisted on scene. Dale's Rescue Towing provided wrecker service.