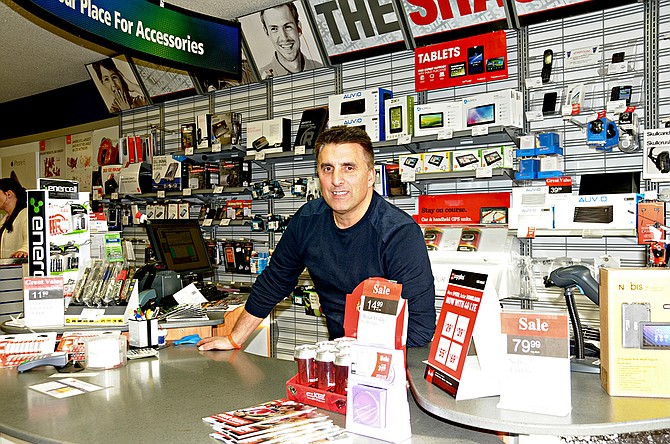 Photo by Lorie Palmer
Robert Nida is shown here in his Main Street store., One Hour Photo/Radio Shack/Verizon. His wife, Linda, works full time for Pacific Cabinets in Ferdinand.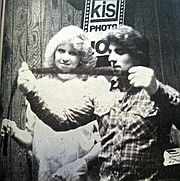 GRANGEVILLE — Scared, young and full of dreams, Robert and Linda Nida embarked upon a new business venture in 1984. Thirty years later, that business is still a staple on Main Street.
One Hour Photo Express is celebrating its 30th year and the couple – who has been married 36 years – has changed, diversified and grown with the communities they serve.
"Obviously things have changed tremendously throughout the years," Robert said.
Robert and Linda were high school sweethearts who both graduated from Prairie High in Cottonwood. Following graduation he decided to work a year before "going to college to become a dental hygienist."
"That was my plan," he smiled. Instead, he worked as a logger and Linda went to college and then they married.
"I liked that money I was making as a logger but it became pretty dangerous," he said. "We started to plan for something else and Linda said, 'you're pretty good at photography. Maybe you could do something with that.'"
One Hour Photo started as a film developing center located in the Ray Holes Mini Mall. Later it moved to where Pine Tree Community Credit Union is now, complete with a drive-through film drop-off window. Later the Nidas purchased the building One Hour is currently in on Main Street, where Mode O Day was previously located.
"Our first film developing machines were pretty incredible," Robert recalled. He completed schooling to use them and throughout the years added three more as technology advanced and changed.
On regular days the machines were developing anywhere from 40 to 80 rolls of film per day.
"We always color corrected everything for the prints and made sure our customers had the best quality, even if the cost was a little more than larger stores," Robert said.
Then came digital.
"I was resistant at first but now I just cannot imagine not using digital," he said.
The last film developing machine was scrapped out just six months ago.
"It wasn't worth anything – it made me kind of sick, but there's just no use for it anymore," Robert shrugged.
Along about five or so years into the business, Robert began his own portrait studio and thus began a busy career that continues through today. He took and developed photos for the police and sheriff's departments on murder and other cases, took autopsy photos, and took portraits for all sorts of governmental agencies, the hospital and other businesses and individuals. He – with help from Linda and his three employees – takes school and sports photos.
"I love seeing the kids grow up," he said. "I took their baby pictures, graduation and wedding photos and now I'm taking photos of their kids in high school. It's kinda weird but I love it."
Robert also takes a great deal of passport photos, something that started out as Polaroids. Now, he has an area where they are specially taken – digitally, of course.
Diversification became the name of the game as the Nidas picked up the Radio Shack franchise when the downtown store closed in 2005. In addition, the store has the Verizon contract for the area.
"These are both very good businesses for the community and a good fit for us here," Robert said.
With all the changes in the photo industry throughout the years, Robert said two things have remained steady: his family and the community.
"I would not have all the tremendous blessings I have without the support of my family and the great communities we serve," he said. "The people who come in to the store are more than customers – they are my second family and I appreciate them so much."
To reach One Hour Photo Express/Radio Shack/Verizon, stop by 231 West Main Street or call 983-1972.