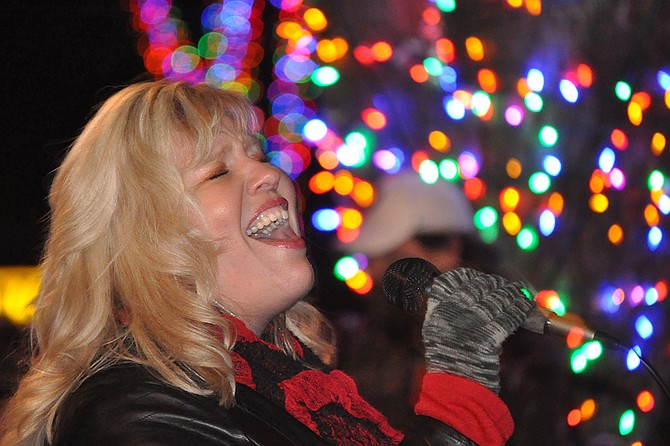 Photo by David Rauzi
Colored lights, music and a visit from Santa Claus on the GVFD Christmas Truck kicked off the holiday season Saturday night, Nov. 29, at the Winter Magic tree lighting event in Grangeville's Pioneer Park. The annual event is sponsored by the Grangeville Horizons Recreation Committee with lighting funded through individual and business donations. A large crowd attended the event to hear performances, which included (pictured) Mellisa Gates.
Summit nativity play is Dec. 19
COTTONWOOD — Summit Academy will host its Nativity play Dec. 19, 7 p.m. This is free and open to the public and will be held in the Summit Academy gymnasium on Substation Road.
Elk City dance set for VFW
ELK CITY – A "Not So Silent Night" dance party at the VFW is set for this Saturday, Dec. 13, starting at 9 p.m.
Breakfast with Santa is Saturday
GRANGEVILLE — Kids and their families are invited to have breakfast and photos with Santa Saturday, Dec. 13, 10 a.m. to noon, at the Grangeville Church of the Nazarene.
Cottonwood parade is Sunday
COTTONWOOD — The Cottonwood Chamber of Commerce Christmas Parade is set for Sunday, Dec. 14, starting at 4 p.m.
Lunch with Santa Saturday
GRANGEVILLE — Enjoy a no-host lunch with Santa Claus Saturday, Dec. 13, 11 a.m. to 1 p.m., at The Gallery in Grangeville.
Hospice program set for Sunday
GRANGEVILLE — Syringa Hospice Tree of Lights program is set for Sunday, Dec. 14, 2 p.m., at the Soltman Center. To request an ornament made in memory of a loved one call 926-4424.
Kids' Christmas sale is Dec. 13
GRANGEVILLE — The annual Kids' Christmas Sale at the Eagles Hall on C Street will be held Dec. 13, 10 a.m. to 2 p.m. Children are invited to shop for their families. To donate items to the event call Shirley Crane at 983-2075.
Orchestra at Nazarene Church Sunday, Dec. 14
GRANGEVILLE — The Idaho County Orchestra (directed by Larry Paul) along with the Valley Singers from Kamiah, will be at the Grangeville Church of the Nazarene Sunday, Dec. 14, 3 p.m. The Idaho County Youth Orchestra will also be playing.
SPPS Christmas program scheduled for Dec. 17
GRANGEVILLE — Sts. Peter and Paul School will host its annual all-school Christmas program Dec. 17, 7 p.m. The dress rehearsal will begin that day at 10 a.m. The public is invited.
Grangeville school concert planned for Dec. 18
GRANGEVILLE — Grangeville schools Christmas program for grades 6-12 is set for Dec. 18, 7 p.m., in the GHS gym. This includes sixth grade band, 7/8 band, GHS band and jazz band, middle school choir, GHS Concert and Varsity Blue choirs and guitar class, all under the direction of Kathy Stefani.
Santa to visit Harpster Dec. 14
HARPSTER – Santa Claus will visit the Harpster Community Building Sunday, Dec. 14. The Christmas program will start at 3 p.m., with music and singing performances, followed by Santa's visit. Santa will pass out bags of candy for the kids. Adults are asked to bring ½ dozen cookies to share at the end of the program.
Life Center to offer 'Unfrozen' program Dec. 13
KAMIAH — The Life Center will hold its "Unfrozen" Christmas program Dec. 13, 7 p.m., and Dec. 14, 10 a.m.
EFO collecting items
for those in need
KAMIAH — Emergency Feeding Outreach has been collecting donations for distribution for those in need Dec. 13. To help organize or donate call 935-0245. To apply for a basket through Community Action Partnership call 935-2412.
Kooskia schools to host concerts
KOOSKIA — The Clearwater Valley Junior Senior High School Winter Concert is set for tonight, Wednesday, Dec. 10, 7 p.m., in the high school cafeteria. Clearwater Valley Elementary School will host its Christmas program Dec. 18 at 1:30 p.m.
Opera House Christmas programs set for Dec. 19, 20
KOOSKIA — Old Opera House Theater will offer its Old-Fashioned Christmas program Dec. 19 and 20, 7:30-9:30 p.m. Call 983-0094 to reserve tickets as this event sells out quickly for both nights.
Assembly church to present program Dec. 14
RIGGINS — Dec. 14 at 6 pm Riggins Assembly of God Church will present its Christmas Program, "The Christmas Cross." 22 kids are participating.
Kooskia bank collecting food for those in need
KOOSKIA — Umpqua Bank will be accepting donations to the Kooskia Food Bank through Dec. 31. All non-perishable items will be accepted as well as cash or checks. Drop off donations between 9 a.m. and 5 p.m., Monday through Friday, at the bank on Main Street.
Riggins recital set for Dec. 17
RIGGINS — Riggins After School Kids, Inc. (ASK) will host its Winter Music Recital in the SRHS multipurpose room Dec. 17.
Baptist church host to cantata
STITES — The Whispering Pines Southern Baptist Association Choir is proud to present a cantata "Christ Was Born For This" at 6 p.m., Sunday, Dec. 21, at the Stites Baptist Church (106 Main Street, Stites).
Lighted parade set for White Bird this Saturday night
WHITE BIRD — Join for the annual lighted Christmas parade. Enjoy hot cocoa and chili in the park Dec. 13, 6:30 p.m. Call for info 507-2120.
Gospel Tabernacle sets Christmas program
GRANGEVILLE – The Grangeville Gospel Tabernacle Christmas program is set for Sunday, Dec. 21, 6 p.m. Special musical numbers will be featured. Pastor Billy Wikoff invites the community to this service.