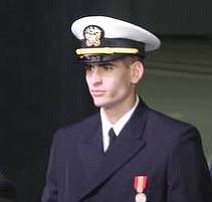 MOSCOW — Alex J. Ackerman was commissioned as an Ensign in the United States Navy Dec. 13, at the University of Idaho. Ensign is the entry-level commissioned officer rank in the U.S. Navy and is equivalent to the rank of second lieutenant in the other armed services.
Ackerman graduated cum laude with a bachelor of science degree in mechanical engineering and a minor in naval science.

While involved in Naval ROTC at the joint U of I/WSU Battalion, Ackerman held numerous leadership positions including battalion commanding officer, color guard commander and platoon commander. He has been assigned to the Naval Diving and Salvage Training Center in Panama City, Fla., as an explosive ordinance disposal student.
Ensign Ackerman is a 2006 graduate of Sts. Peter and Paul School and a 2010 graduate of Grangeville High School. He is the son of Bob and Kathy Ackerman of Grangeville.