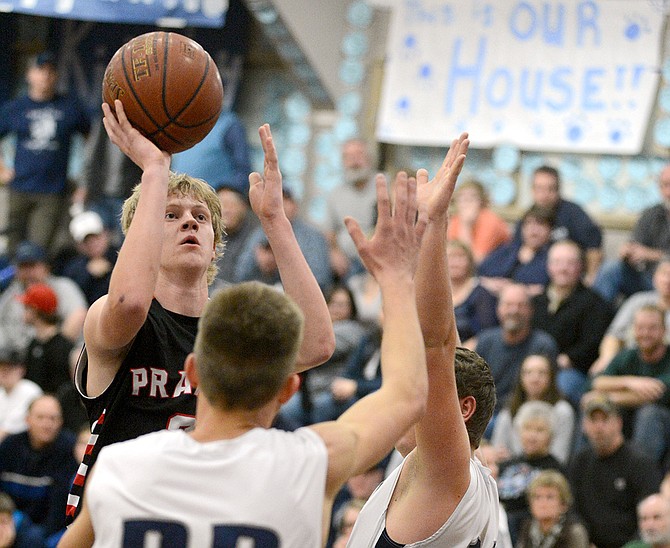 Photo by Andrew Ottoson
Prairie's Rhett Schlader knocked down this jump shot for two of his 18 points last Friday night, Dec. 12, at the Idaho County Shootout. When Grangeville closed within one possession late in the third quarter, Schlader sank three free throws to restore Prairie's lead to six.
GRANGEVILLE — The annual Idaho County Shootout raised more than $10,000 for local food banks — about $6,000 less than the event raised last year. Organizers decided ahead of time that the traveling trophy would not be awarded this year.
Even so, December's biggest local high school sporting event once again featured a packed gym, raucous crowds and two hotly contested basketball games last Friday night, Dec. 12.
Though the boys game was foul-ridden — the teams were whistled more than 50 times — the Grangeville-Prairie matchup produced plenty of offense besides free throws.
The Pirates made more of their chances and led by double-digits en route to a 70-62 win over the Bulldogs. The Pirates led 43-33 with 4:39 left in the third quarter, but Grangeville rallied.
After Austin Parks came up with a steal and a fast break basket, PHS answered with a skillful halfcourt attack. Prairie posted up Tanner Ross near the foul line and Ross knocked down a jump shot to keep Prairie's lead at five.
At the other end, Max Cawley scored on a scoop shot, bringing GHS within one possession. But barely before the third quarter ended, Rhett Schlader was fouled while firing a three-pointer; he nailed all three free throws, putting PHS ahead by six with one quarter left.
Before either team scored in the fourth quarter, Cawley was hit with his fourth and fifth fouls — the latter a technical foul — but Prairie missed all but one of the free throws.
Michael Wilson was hampered by foul trouble and blanketed by the PHS defense most of the night, but scored from the low post to lift Grangeville back within five.
Jake Bruner answered for Prairie, tearing through a zone defense with a dribble-drive for a layup. After Bruner added another layup, Prairie scored a crushing basket on a tip-in by Schlader good for a 57-46 Pirates lead.
But the fouls continued to pile up against both teams, removing Wilson, Bruner, Ross, and Luke Stokes from the floor during the last four minutes of the game.
Layton Harris stepped up for Grangeville, scoring eight points during a stretch of two minutes.
Bruner added one more basket off an inbounds set before Stokes drew Bruner's fifth personal.
GHS forward Michael Stevens drew Ross's fifth with 1:47 remaining and hit one of two free throws to keep GHS within six. Parks then came up with another steal and layup, cutting it to four.
Prairie missed four straight free throws before Bryson Higgins sank both double-bonus shots after drawing Stokes' fifth. Higgins and Calvin Hinkelman each hit another pair of foul shots to finish it off.
Bruner led all scorers with 24, while Schlader (18) and Higgins (12) also cracked double-figures for Prairie. For Grangeville, Parks (19), Garrett Kennedy (11) and Harris (12) scored double-digits.
Coming — Having played Colton after the print deadline on Tuesday night, Dec. 16, Grangeville (4-1) has three games left this month: GHS is set to host Kendrick on Friday night, Dec. 19, with the JV to tip off at 6 p.m. and the varsity to follow. After Christmas, Grangeville will play two games at Clarkston, Dec. 29 and Dec. 30.
Prairie (2-0) opened its season with a 67-43 romp over Moscow on Dec. 9; PHS played Troy after the Dec. 16 print deadline.
The Pirates have five dates left this month: against Kamiah Dec. 18 at PHS, at Genesee Dec. 19, and at the Coeur d'Alene INN-vitational Holiday Classic Dec. 29-31.
More like this story