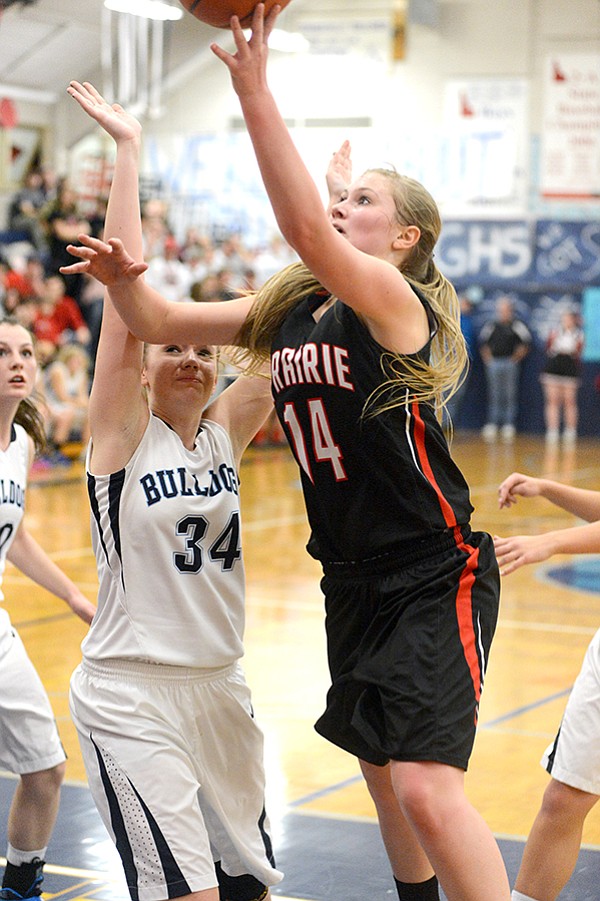 Photo by Andrew Ottoson
With 15 points, Prairie's Kayla Schumacher lifted PHS to a win over Grangeville during the Idaho County Shootout last Friday, Dec. 12.
GRANGEVILLE — Prairie led the girls game by as many as nine points during the fourth quarter, but saw host Grangeville make a late charge after Hailey Sullivan sank a trey with about two minutes remaining. Despite playing a tough game the previous night — a physical 49-44 loss at Lapwai — the PHS girls held on to win their Idaho County Shootout game last Friday night, Dec. 12.
Grangeville led briefly twice: after GHS opened the scoring, Prairie pulled firmly ahead on a dribble-drive layup by Hailey Danly. PHS stayed ahead through halftime, building a 22-12 lead.
Grangeville wiped out much of that lead with a 10-2 run that included makes by Madison Brown and Kaleala Bass early in the third quarter.
After Prairie coach Lori Mader called a timeout, Prairie broke the dry spell with a bucket by Kayla Schumacher.
Grangeville took the lead, 28-26, on a pair of long-range shots. Danly came up with another clutch play, sinking a jumper in transition to put PHS back in the lead, 30-28, to start the fourth quarter.
The Pirates again started pulling away with Krystin Uhlenkott capping a 9-2 run for a 39-30 Pirates lead.
Sullivan then hit a three-pointer that sparked a last-ditch surge; GHS quickly closed within one possession before Prairie's stall could kill the clock.
Sullivan led Grangeville with 12 points; Schumacher totaled a game-high 15 for Prairie.
Coming — Prairie (8-1) thumped Kamiah 61-7 last Monday, Dec. 15, and played at Genesee after the print deadline on Tuesday, Dec. 16.
The Pirates will host Grangeville on Friday night, Dec. 19, before the Christmas break. Prairie will return to action on Jan. 6 at Moscow.
Grangeville (3-3) beat McCall 39-28 last Monday, Dec. 15.















GHS has three dates remaining this month: a Dec. 17 home game against Orofino, the Dec. 19 trip to Prairie, and a Dec. 29-31 road date at the Coeur d'Alene Christmas Tournament.