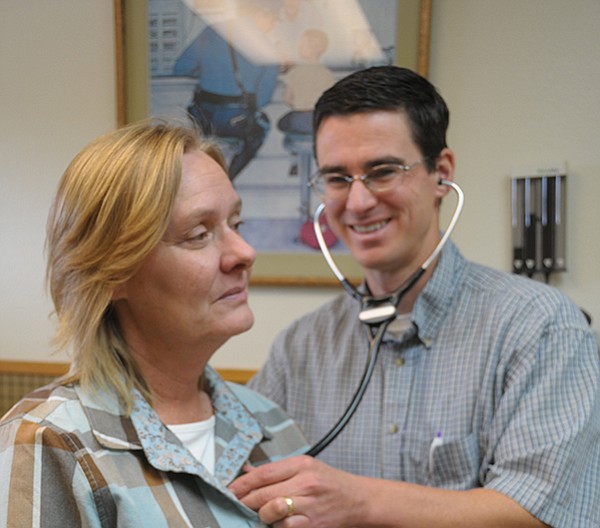 Photo by Lorie Palmer
Dr. Danny Griffis checks the vitals of Jill Deveraux.
GRANGEVILLE — Physician and nursing shortages are nothing new in rural areas.
"Like anyone in any community, physicians have to find the right fit for themselves and their families. And they have to balance the workload with their family and personal life – it can be very difficult," said Syringa Hospital CEO Joe Cladouhos.
Cladouhos said the medical staff that is now built up at SHC is "one of the best and most committed I have ever seen."
Many studies suggest physician and nursing turnover in rural areas is as high as 16.8 percent on average. Aside from finding their right fit in the community they serve, Idaho County primary healthcare providers are paid much less than their urban counterparts and the rural jobs may be more demanding. This includes taking on call and emergency room duties. Although 23 percent of Americans live in rural areas, only about 10 percent of physicians practice in rural America (Health and Insurance Reform at a Glance: Rural America, 2010).
As a critical access hospital, Syringa has seen a dramatic swing from inpatient to outpatient care as technology and practice models have changed and specialized inpatient services have remained concentrated in larger areas. According to the Kaiser Commission, under the Affordable Health Care Act, Medicaid enrollment is expected to climb 30 to 40 percent by 2019. All facts play into what type of care providers to recruit as well as how many.
Dr. Danny Griffis joined Syringa Hospital in 2010, coming from Lubbock, Texas, taking a substantial pay cut to work in Grangeville. He said some of that was due to decreased call responsibilities as opposed to his position in Texas.
"We moved here for the recreational opportunities and quality of life which offsets any pay differences," he said.
Griffis said in regards to physician burnout, national studies indicate that this is a universal problem in medicine, though it can sometimes become magnified in rural settings due to coverage responsibilities, inability to have any degree of professional "anonymity" when in the community (for example, Mrs. X feeling free to discuss her medical problems when passing by in the grocery store) and a feeling of professional isolation that can occur.
"There is no doubt that practicing medicine in a rural area has some unique challenges," Griffis said. "We love this community and have worked hard to maintain a healthy family life while being a team player to serve our county's healthcare needs."