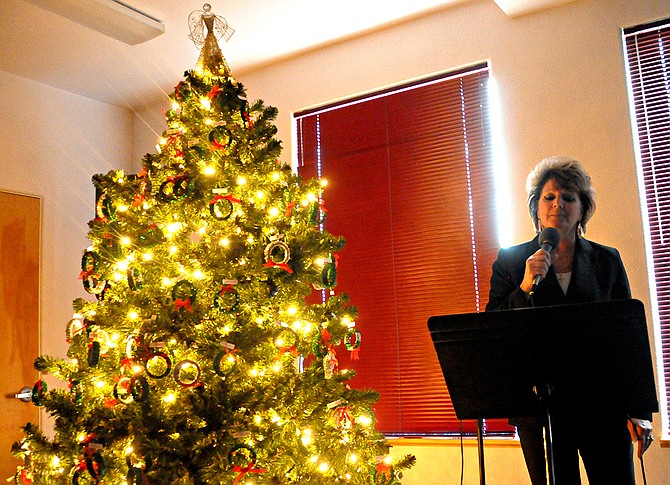 Photo by Lorie Palmer
Wendy Lindsley sings at the Hospice Tree of Lights program.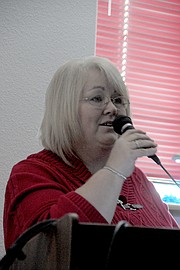 GRANGEVILLE — "This is an opportunity for us to remember our loved ones who have passed on in a very meaningful way," said Dr. Danny Griffis.
Griffis spoke to a crowded room at the Soltman Center Sunday, Dec. 14, for the 14th annual Hospice Tree of Lights program.
"This is especially close to me today as I lost two grandparents this year who were both under hospice care far away from me," Griffis said. "There was a reassurance for me that they were taken care of. Today is a day to allow their stories to live on."
Syringa Hospice offers a full realm of care for those who have six or months or less to live who live in Idaho County and the vicinity.
Pastor Brent Ewing prayed for minds to "drift back to sweet memories of those we love," prior to the start of the program.
"Have you ever had to let go of an angel, say goodbye, let 'em fly," sang Melani Gortsema. Gortsema sang the song "Angel" in memory of her father who died under hospice care in 2010.
Wendy Lindsley and Kim Johnson also offered songs for the program and readings were given by Charlene Funkhouser, Dianne Walker and Wendall Thomas with hospice volunteer Laurie Remillard emceeing the event.
A list of nearly 100 names of deceased loved ones was read by Bette Stone and Eileen Uhlenkott. A handmade ornament bearing each of these names was hanged on the Tree of Lights Christmas tree.
"I want to thank our 27 hospice volunteers who work so hard to make this program happen," said Syringa Hospital CEO Joe Cladouhos. "Hospice is not a moneymaker. But we feel it is a very important program and events such as this are not only great to recall our cherished memories, but also help keep the program going."