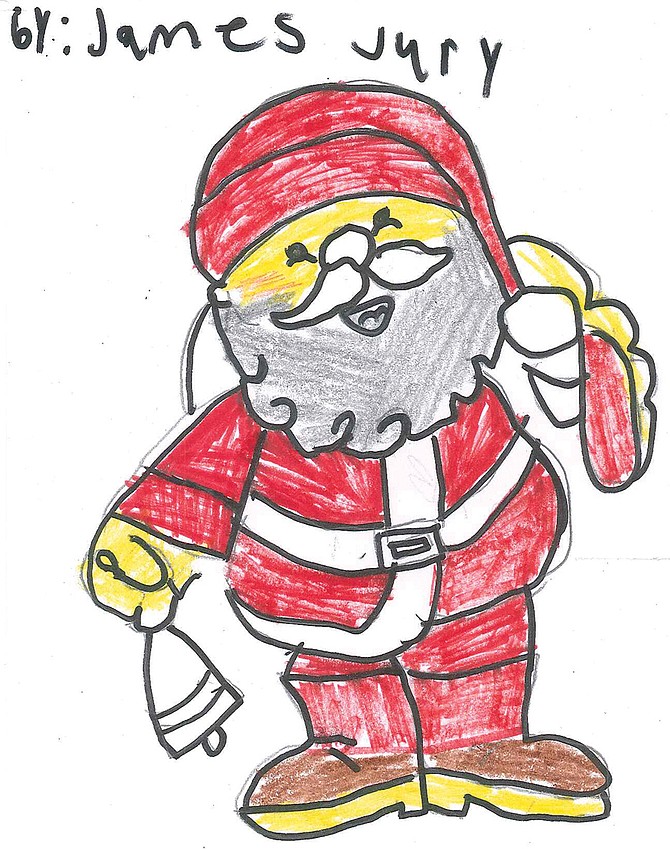 (Editor's note: The following is a selection from our Letters to Santa edition, inserted in this week's issue.)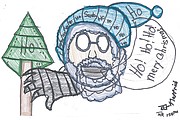 Dear Santa,
I want an I pod. I want an I pad. I want a Kindl. I want to give Lance a new dog.
Beverly Farmer
Dear Santa,
How are you and Mrs. Clause. I have a couple things I want for Christmas, I would like a play staion 4 for my room, I would also like a bike, some pads, and a wubble bubble. Oh I almost forgot how are your reindeer?
Love, Adri Anderson
Dear Santa
How is Mrs. Claus doing. I wish I had more legos, X-Box 3-60, puppy, Starwars 5 movie!
From your friend, Beau Bruzas
Dear Santa
I wube like tase tos. A Zoomer and, Wubble bubble, and I was wudring how do your reindeer fly.
Rin by
Kylea Clemenhagen
Dear Santa,
For crismis I wunt a drt bike. Wen I get noe I wil ride it. I wunt it to be red. I wud rid it at mi haws.
Your friend
Tyler Holt
Dear Santa
How are your reinder doing. Your elves make cool toys. I thout "haw can a little elf make kid size toys?" My mom said "They make them elf size then with her magek, make them big. The theng that I want to have is more freinds. I want to know haw Mrs. Claus is doing. Are her cookies giting yummier evre year? How menny elves do you have? How do you dliver all the prezents in one night? Haw are the elves doing? I bet they are buisy. Thay are cute. I am exided to get my preizents! I want an Amarcion Girl backpack, iPhone, ginny pig treats, two dall stroller, and an Amarcion Girl soing mushen and kit. Evre year the tree falls over. Christmas ordments is gest what we nead. I love giting new stuf. The thing that I love the most about Christmas is we celubrat Jeuses birth. Merry Christmas.
Love,
Cloey Winder
Dear Santa,
I do not bleav in you. I think elves are not ril. I think reindeer are not ril.
Love, Frank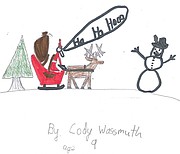 Dear Santa,
I would like to visit the North Pole and meet your reindeer. I would also like to meet Mrs. Clause, and if it is possible I would like to meet your elves.
Sincerely,
Adelaide Crowl
Dear Santa
for Christmas 1. iPod, 2. Wubble bubble, 3.iPod nook, 4. Manrequin head, 5. American baby doll, 6. Lego friends, 7. Doh, vina. How is Mrs. Claus. How are the raindeers. You are a jolly man.
Your friend,
Nichole White
Dear Santa,
You are awesome and cool if you really exist I would like to know about how you fit down the chimney and not get burnt. How do you know if Kids are good or bad? Why do you give people presents and how do you give everyone in the world presents in one night and do you have kids? I wowld like Disney infinity 2.0 for Christmas. Do you have magic show in the north pole?
From Quentin Have a nice Christmas.
Dear Santa,
I want toy video games and mone. Don't for get legos
Love, Kylan Cass
Dear Santa
I'v trid to be a very good booy. This yert wat I want tour CHRISTMAS. I want sum scoot candys
Thank you, Kameron
Dear Santa
What are you doing today. This is what I want for Christmas I want a new paitball gun, new steel towd boots. A pw 100 dirt bike Honda 4-stroke.
Trenton Hoene
Dear Santa Claus
I want a Elf on the shelf and I want a x box 360 and a new wii because nine is not working and I want a foweller because I like them. I want a I phone 6. I want a dirt bick and I want a santa for Christmas because he will give me enning for Christmas can I have a barby life in the dreem house. I want to have a lot of monny so I can be ritch. Can I have a lot of DORK diarie books.
Love Elli
Dear Santa
I am 7 years old. How old are you? For Chistmas I want a DS. Watch out for Bear.
Love
Hannah Frei
Dear Santa,
For Christmas I want some new barbie's and barbie clothes at my Dad's house. I want some ug boots that are tan please. If you can please get me some new pants. Also if you can get me a baby husky I would really appreciate it. I don't really want much for Christmas. I was wondering how the elves are doing and the raindeer and Mrs. Claus and everybody there is doing even you? Please write me a letter back.
Sincerely, Nicole S.
Dear Santa Claus,
How are you doing? I would like a slinky dog, a puppy and a nabi Dreamtab for Christmas.
Tim Weeks
Dear Santa,
I hope you have a good Christmas. Santa how many elves do you have? Why did Rudolgh get to play any Reindeer games? Santa, how many cookies do you eat? When do you work? Is the north pole colder then the South pole?
Your Friend, Bryson
Dear Santa Claus,
Do Miss Claus make you cookies? How does the elves make the toys? How do you make the reindeer fly? Does Rudolph glow his nose when he leads the rest of the reindeer? I would like a cowgirl name Jeussie and I want her to have a bull string. A red pillow. And a stuff animal that is a reindeer named Rudolph.
Love, Shayla
Dear Santa,
How are you doing? I'm good are your elves good? Is Mrs. Claus good? I bet so. How is Rudolph? For Chritmas I want a baby panda and a iPod that plays music and the baby kitten. That's all I want. And when you come I'll get milk and cookies. Merry Christmas
Love, Sydnee