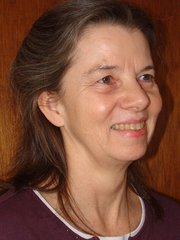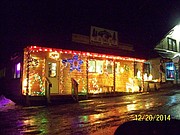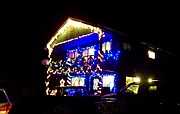 ELK CITY — And the winners are… The following business and residents are the winners of the VFW Auxiliary's Christmas lighting contest: Residences – first place, Jake Chaffee; second, Chris Thompson, and third, Jeff Maxwell. Runners-up were Carmen Chlebowski, Tim Chaffee and Kelly Whiteman. Business – first, Wilderness Eatery; second, Elk City Hotel; third, Elk City Saloon, with the runner-up, Elk Creek Station. Thanks to everyone in the community who worked to make our Christmas sparkle. See photos taken by Patricia Menough.
The Ladies Auxiliary would also like to express their thanks to the people who stepped up to the plate and took on preparing the cookie plates for those who got them this year. The ladies had originally cancelled their plans of preparing and distributing the 100-plus plates because there were not enough active members to pull it all together. But again, community members made it happen anyway. Thanks to all you who serve!
The Winter Program at the school was delightful as usual. Thanks to the teachers and community members who worked with the children to put on this traditional and wonderful program. The Mackies were there with their puppets and props. I remember when my kids were young and the Mackies did puppets with them. They even did the same song, The Tickle Song, which always has everyone laughing, way back then as well. The children sang traditional Christmas songs as well as other fun songs. Beverly Farmer did a beautiful job singing a solo of "What Child is This." Even though there are only eight children (plus a preschooler and one in kindergarten) they drew a large crowd from the community. Community support has always been tremendous for the school here in Elk City. (I will share a couple of photos in the following weeks).
I want to take this opportunity to wish you a Merry Christmas and pray that you will take joy in remembering the real reason for the season – Jesus!
Reminders: The GofundMe account for donations to help Marjorie Mendenhall on, [http://www.gofundme.com/hyyw2o]
Birthdays: Ashley Wagenmann, Joyce Dearstyne, David Phillips, Jerry Phillips, and Allen Enos.
Memorials: Jim Morley.