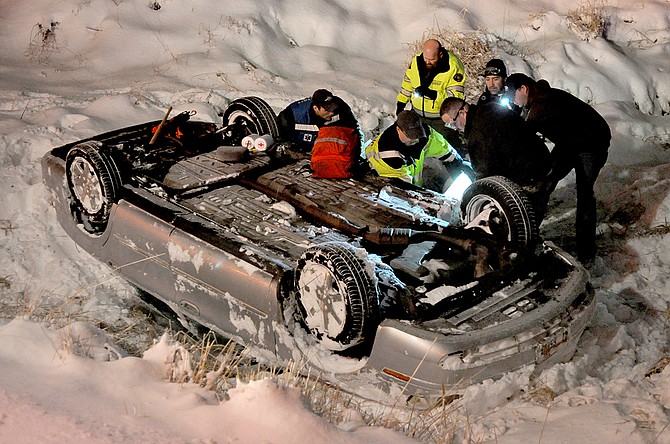 Photo by David Rauzi
Personnel with Syringa Ambulance, Grangeville Rural Fire Department, Idaho County Sheriff's Office and Grangeville Police Department extricated Lisa Learn who was trapped following a Monday morning, Dec. 29, rollover accident on Day Road.
GRANGEVILLE – With temperatures below freezing, an injured Grangeville woman lay trapped in her overturned vehicle for nearly an hour until her crash location was discovered and she was extricated by emergency personnel.
Lisa A. Learn, 50, was transported to Syringa Hospital early Monday morning, Dec. 29, where she was treated for minor injuries and released.
Learn was involved in a single-vehicle crash on Day Road just north of the U.S. Highway 95 intersection, but confusion in where she was located sent responders in several directions until her accident site was chanced upon.
According to Idaho County Sheriff's Sergeant Sam Clark, Learn was driving a 2002 Mercury Sable north on U.S. 95 and turned right onto Day Road, traveling northbound in the southbound lane. After traveling approximately 100 feet she drove off the west side of the roadway and down the embankment where the vehicle rolled onto its top, settling in the drainage. Learn, who was not wearing a seat belt, came to rest against the Mercury's roof.
"She didn't know where she was," Clark said, and she initially contacted family by cell phone in Moscow, telling them she was somewhere on the truck route between the Triangle Tavern and State Street. Family contacted Idaho State Police that relayed the information to ICSO at 12:25 a.m.
"It took a long time before we found her," Clark said, with a Syringa Ambulance crew also involved in the search that – when no sign was found along the truck route — expanded to the city outskirts on State Highway 13 and the Grangeville-Salmon Road. Clark finally found Learn at 12:57 a.m.
"She was very cold," he said. Learn had laid on the car roof the whole time, which was in contact with the creek in temperatures around 28 degrees. Syringa EMTs and an extrication crew with Grangeville Rural Fire Department took approximately 20 minutes to pry open the vehicle and transfer Learn – unconscious by that time — to the ambulance.
Investigation is continuing, and alcohol is a suspected factor in the crash. The Grangeville Police Department assisted at the scene. Dale's Rescue Towing provided wrecker services.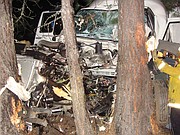 Inattentive driving cited as factor in Dec. 22 crash on US 12
SYRINGA – Inattentive driving was cited as a factor in last week's minor injury accident involving a semi-truck on U.S. Highway 12.
Saykhotjon Samiev, 23, of Brooklyn, N.Y., was transported to Syringa Hospital in Grangeville for treatment.
The single-vehicle crash was reported last Monday, Dec. 22, 5:01 p.m., five miles west of Syringa, according to an Idaho County Sheriff's Office (ICSO) report. Samiev was driving a 2014 International hauling a trailer westbound when he lost control of the vehicle and went off the right side of the roadway. The vehicle traveled into a ditch and up the embankment where it struck several trees before coming to a stop. The impact peeled off the front fender, hood and driver's side front tire back past the driver's door, as well as tore off the front axle and air tank.
Due to compression of the cab, Samiev's right leg was trapped between the driver's seat and the dash, requiring EMS personnel to extricate him from the vehicle. He was wearing a seat belt at the time of the crash.
ICSO deputies Tom Remington and Jason Hicks investigated the crash, assisted by the Kooskia Ambulance and Powell QRU. Jackson's Towing provided wrecker services.
ISP investigating injury accident involving White Bird couple
CULDESAC – Idaho State Police is investigating last week's two-vehicle accident on U.S. Highway 95 that injured a White Bird couple.
Clarence McReynolds, 81, and Viola "Hootie" McReynolds, 79, were transported to St. Joseph Regional Medical Center in Lewiston. Clarence was treated and released, and Viola was transferred to Sacred Heart Medical Center in Spokane where, as of press time Tuesday, she was listed in satisfactory condition.
The Friday, Dec. 26, crash was reported at 1:56 p.m., three miles north of Culdesac, according to an ISP report. Leroy Gorgon, 42, of Lewiston, was northbound in a 2012 Ford van at Mission Creek Road waiting to make a left-hand turn when he was rear-ended by Clarence, who was driving a 2010 Lincoln Towncar. All involved were wearing seat belts. U.S. 95 was partially blocked for approximately two hours.
The McReynolds are owners of Hoots Café at White Bird.
ISP was assisted at the scene by the Idaho Transportation Department.