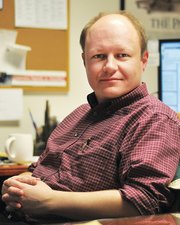 Sorry to spoil your festivities planning for the new year, but elections are coming up.
(Pardon our pause here as we duck the tomatoes being thrown our way.)
Seriously. Have you been interested in taking the next step in serving your community, in helping formulate solutions to local problems and be a leader in implementing them? This is the year for you.
What's up? Board seats for local cemetery, fire protection, water and sewer, and hospital districts. As well, city councils will have open seats to fill. Candidate filing deadlines, depending on the office, will be in March and September for elections set, respectively, in May and November.
The emphasis here is "local."
We can all become jaundiced on politics as observed at the federal and even state levels with elected officials who represent a large region or district and are not frequently accessible or frequently fail to represent and/or defend his or her constituents. Such bitter expectations make it a hard slog at times to pick the lesser of two evils on the ballot, knowing you'll be up for more of the same in the coming two or four years.
For someone just wanting to serve his or her community, or for those interested in the start of a political career, local politics demands your attention. Here you learn the ropes of a process that –despite initial appearances of looking less organized than a slumber party pillow fight – surprisingly provide good civic services and due consideration to public involvement.
And you're helping your neighbors and friends, your town and its citizens and businesses. You'll see your contributions make changes – you can make a difference — and most definitely you'll hear from folks on how well, or poorly, you're doing. All that for a position that you'll likely be serving on for free or at best for a small salary that makes minimum wage look attractive.
We're pounding the election drum now as you'll want to be looking into what is available (check last week's legals section in the Free Press, or the Idaho County Election's Office), in what districts, and then attending those meetings to start to get up to speed on the issues at hand.
Because before you know it, filing deadlines will be upon us … and the races will begin.