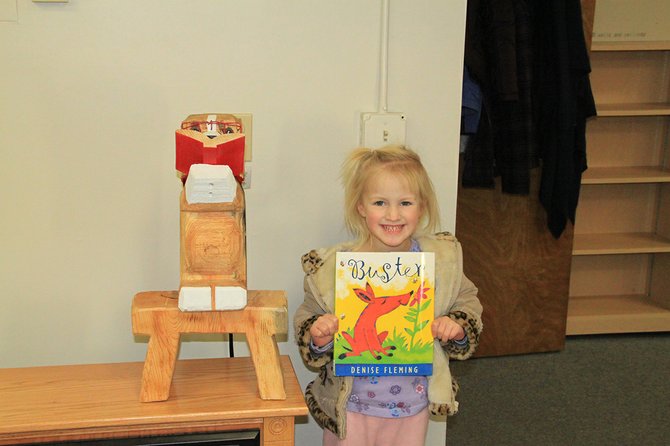 Photo courtesy Greg Wherry, Cottonwood Chronicle
Catherine Seubert, age 4, is shown with the mascot at Prairie Community Library. She won the "name the dog contest" and called him Buster.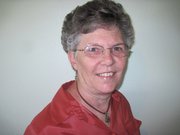 COTTONWOOD — The new mascot at Prairie Community Library has a name! Catherine Seubert, 4, daughter of Heather and Maurice Seubert, named him Buster. Dennis Sullivan and Frances Conklin created and donated the dog for the library. His job is listening to children read. He does it very well, indeed. Buster is never critical and just sits and listens. We welcome Buster to the library. Catherine won a book called "Buster" for her prize.
Prairie Community Library has been ordering a lot of new books lately. There is a whole series of Elm Creek Quilts novels by Jennifer Chiaverini. No, they are not how to quilt books. They are stories of neighbors who are struggling through difficult times, getting together to swap fabric as well as their personal stories. The warm, bright, beautiful quilts they piece together are infused with love and comfort. You might even see people like yourself in some of the stories. Included in the series is "Mrs. Lincoln's Dressmaker," an historical novel. Come in and check them out.
Did the groundhog see his shadow on Sunday? It was nice and sunny at our place so that means six more weeks of winter.
Hey, did your team win Super Bowl yesterday? Mine did! Go Seahawks!
Congratulations to Carri Forsman, health information director at St. Mary's Hospital and Clearwater Valley Hospital. She was selected as the 2013 Employee of the Year by her fellow employees. Forsman was described by a co-worker as, "always caring and helpful; she exemplifies great core values." "I want to thank everyone for this honor, but this isn't something I could have received without all the hard work of everyone in my department and hospital," commented Forsman. Carri and her husband, Paul, and their two sons, Carson and Connor, live in Ferdinand.
St. Mary's/Holy Cross Parish dinner will be held on Sunday, Feb. 9, from 11 a.m. to 4 p.m. in the Keuterville Parish Hall. Good food, great prizes and homemade pies. They really know how to put on a feast at Keuterville. Don't miss it.
On Feb. 6 Healthy Horizons will have their weight management and lifestyle choices class at Cottonwood Medical Clinic. Confidential weigh-in is at 5:30 p.m. Class is 6-6:30 p.m. on Introduction to Healthy Lifestyle Choices. Initial registration is $13 and $5/session after that. Call Kevin Conger, DTR or Vicki Berg, CDE for information at 962-3267.