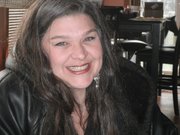 WHITE BIRD — Las Vegas was entertaining. The gift show was amazing and huge. I can't wait for you all to see the great stuff I found for the store. It should all be coming in really soon. It took me two days though to get my legs back. I'll tell you what, six days of going up and down elevators, escalators and airplanes, did a number on this simple chick from White Bird Creek. It's like returning home from an entirely different planet.
The Rebekahs are having their annual Sweetheart's basket raffle. They always put together really nice baskets, full of all kinds of goodies. Of course, all the money raised from this raffle just goes right back into our community one way or the other, so you know it's a good cause. The tickets are only $.50 each or three for $1. You can buy tickets at Canyon House, the Silver Dollar, or you can call Janis Ann at 839-2478, Laurie at 839-2664, or Dianne at 2624. The drawing will be held at the Silver Dollar on Feb. 14.
The White Bird Chamber is sponsoring an Antique Faire. Rain or shine, it will be May 3, so you have time to get the details and get prepared. You can e-mail them at whitebirdchamber@gmail.com or call 839-2825. Web: visitwhitebird.com and you can also find them on Facebook.
The cribbage tournament on Jan. 25, brought in 20 players. Andy took first and Laurie got second. Last Saturday there were 22 players. Nick got first and Liz got second. Join in next Saturday, same time, same place.
It's cold, and the thermometer just keeps dropping, so bundle up, batten down the hatches and break out the hot cocoa and schnapps. Winter's not over yet.
Happy birthday this week to: Mollie Pearce, Guy Ellibee, Bill Fogleman, Larry and Jan Barany, Mathew Bauman, Scott Hagen, Janet Klement, Daryl Mullinex, Tim Emig, Tate Stowers, Shanna Legg and Yeon.