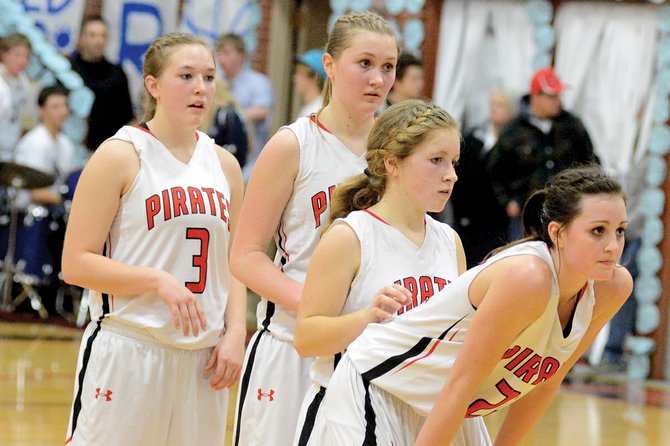 Photo by Andrew Ottoson
After settling in with Prairie, having transferred from Kamiah, Pirates senior Kyndahl Ulmer (right) has helped make the Pirates a force to be reckoned with one year after helping carry a stacked Kubs team to the 1A state championship. Her fellow seniors Keely Schmidt (left), Kayla Schumacher (second from left), Nicole Wemhoff (second from right), Leah Holthaus (not pictured) and Sky Wilson (not pictured) finished the regular season 17-3 and tied Lapwai for the best record in the Whitepine League. PHS is seeded second in the district tournament on a tiebreaker draw, and is set to play at 7:30 p.m. on Saturday, Feb. 8, against an opponent to be determined.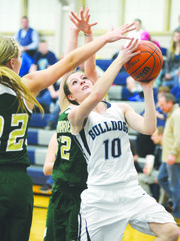 2A District II tourney
TROY—Grangeville, undefeated in the Central Idaho League this season, will have the top seed at the 2A District II tournament, set to open at 1 p.m. Saturday, Feb. 8. GHS will face fourth seed Orofino in a rematch of Monday night's 60-12 Bulldogs victory.
Should Grangeville remain unbeaten, GHS would play at 6 p.m. on Feb. 10 and 6 p.m. on Feb. 14.
St. Maries and Charter will play at 2:30 p.m. Saturday, and would need to win at 6 p.m. Feb. 12 to reach the finals.
1AD1 District II tourney
LEWISTON — The 1A girls Division I and Division II Whitepine League basketball playoffs will begin Thursday night, Feb. 6, with district play-in games, and will continue through next Monday, Feb. 13, with a total of five slots at stake for the 14 teams in 1A District II.
Seven of those teams — Lapwai, Prairie, Genesee, Potlatch, Clearwater Valley, Troy and Kamiah — will vie for two upper division state berths. Placing third in the tournament will extend the season to the state play-in round.
Seven will vie for the lower division's one automatic berth and one play-in: Kendrick, Nezperce, Summit, Highland, Deary, Logos and Timberline.
All the 1A district tournament games will be played at the Lewis-Clark State College activity center.
The lower division tournament will open with Timberline taking on Logos in an elimination game at 6:30 p.m. Feb. 6.
That night, Highland will play Deary at 8 p.m.
On Feb. 7, Summit will take on the Logos-Highland winner, in a loser-out game, tip-off at 5 p.m.
Should Summit advance, the Patriots would meet Nezperce in the quarterfinal round at 2:30 p.m. on Saturday, Feb. 8.
With a win over Nezperce, Summit would play for the district title at 8 p.m. on Monday, Feb. 10. With a loss to Nezperce, the Patriots would need wins at 5 p.m. Feb. 10, at 6 p.m. Feb. 13, and another over the District I representative at the state play-in, 4 p.m. Feb. 15 at St. Maries.
1AD1 bracket
The 1A Division I district tournament will open with Kamiah-Troy at 5 p.m. on Feb. 6 at LCSC, where all the Whitepine League tournament games will be played.
The Kamiah-Troy winner will face Genesee in an elimination game at 6:30 p.m. on Friday night, Feb. 7, and Clearwater Valley will square off with Potlatch in a knockout game at 8 p.m. that night.
The highest remaining seed will face Prairie at 7:30 p.m. on Saturday, Feb. 8. The lowest remaining seed will face Lapwai at 6 p.m. that night.
Given the degree to which they dominated the league during the regular season, Prairie and Lapwai are likely to square off in the district championship game at 6:30 p.m. on Monday night, Feb. 10, but if either falters, another WPL team would nab an automatic state berth.
The district's third-place game will be played at 7:30 p.m. on Feb. 13; the third-place team would have to beat the District I champion at 6 p.m. on Feb. 15 to qualify for state.