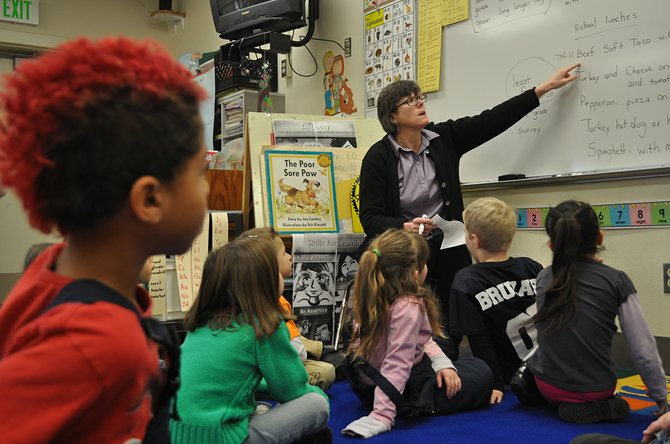 Photo by David Rauzi
Grangeville Elementary Middle School teacher Chris FitzMaurice instructs her joint kindergarten-first grade class in how a survey is conducted.
Teachers, doctors and counselors: These and related professions make up nearly 20 percent of Idaho County's work force, according to U.S. Census Bureau figures recently released through the 2008-2012 American Community Survey.
According to five-year estimates during this period, Idaho County's civilian employed population, age 16 years and older, was reported at 6,372. Of this amount, 19.7 percent (1,255) were employed in the educational services, health care and social assistance category.
Remaining occupations in the top five were as follows:
• agriculture, forestry, fishing and hunting, and mining: 957 (15 percent);
• retail trade: 717 (11.2 percent);
• manufacturing: 693 (10.8 percent);
• construction: 607 (9.5 percent).
Making up 8.6 percent (546) of those employed are those in the arts, entertainment, recreation, accommodation and food services. Public administration employs 384 (6 percent), followed by 284 (4.5 percent) working in professional, scientific and waste management services. Finance and insurance, and real estate, rental and leasing comprise 3.6 percent (228) of the total.