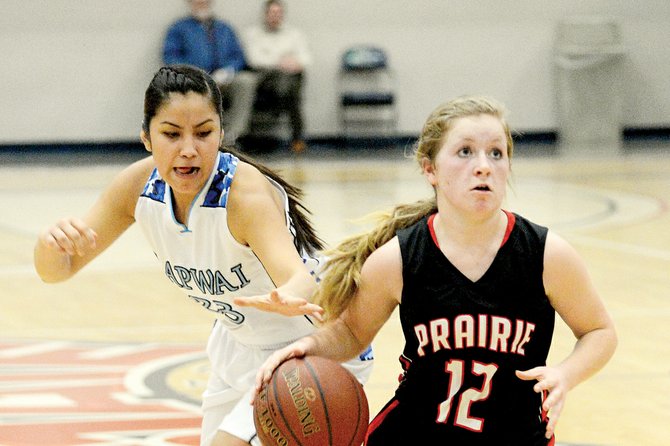 LEWISTON — Needing to play their 'A' game to challenge another of the classification's top teams, Prairie looked a little out of sorts last Monday night, Feb. 10, at the Lewis-Clark State College Activity Center.
Needing a win to claim the district's title — and with it, a better seed for the state tournament — the Pirates were afflicted by Lapwai's feverish defense at several stages of a 51-44 loss.
Lapwai adapted as quickly as the PHS offense could adjust, swinging what had been a close contest to the brink of a blowout by way of a 14-2 run during the second quarter.
Trailing by 16, 35-19, midway through the third quarter, Prairie proved resilient.
A couple of makes by guard Sky Wilson powered a 9-2 run that also featured a traditional three-point play by Kayla Schumacher and a couple of foul shots by Kyndahl Ulmer.
Ulmer scored the last basket of the third quarter and Hailey Danly knocked down a long jumper starting the fourth, slicing Lapwai's lead to seven.
Another layup by Wilson narrowed it to six, and a foul shot by Danly — Prairie's 15th made free throw — cut it to five.
But amid a flurry of turnovers, Lapwai scored nine points during the final stretch to run the lead back up to as many as 10.
The Wildcats blitzed Prairie's ballhandlers, forcing Wilson out of the game in lieu of Keely Schmidt, who immediately scored a layup to keep it within seven at 46-39, but was whistled for a charge on an aggressive dribble-drive the next time down.
Lapwai's Iris Domebo hit two treys during the decisive early run and finished with 13 points. Cyra Cunningham — a crucial post player against Ulmer and Schumacher — got into foul trouble early but wound up being the only other Wildcat to score double-digits.
The Wildcats whacked Ulmer early and often shot 14 free throws and hit 12 for a game high 22 points; Schumacher and Wilson finished with seven points apiece.
Up next, Prairie will play at the 1AD1 state tournament.
Summit 54, Highland 30
LEWISTON — When Megan Rehder started heating up during the second quarter last Monday night, Feb. 3, Highland's chance to advance evaporated quickly.
Highland led 6-0 quickly and 9-5 after one quarter, but Megan Rehder notched seven points during the second quarter, which sparked a Patriots rally, which came to include a 20-point third frame, which began with a Rehder trey.
While Highland remained stuck on 19, Summit raised its lead to nine. Highland rediscovered the hoop, but the Patriots advantage grew to 10 on a triple by Rachel Frei and 12 on a basket by Megan Seubert.
Sarah Chmelik raised it to 14 with a fast break layup, then 15 with a free throw. Then Seubert completed a layup-and-one to make it 45-27.
Two more breakaway baskets by Chmelik increased the lead to 22, and Rehder knocked down a jumper off a feed from Chmelik for the final score.
Rehder finished with 17 points, Chmelik had 16 and Seubert totaled 13 in the contest.
Katy Haight paced Highland with 14.
With the victory, Summit will have the privilege of playing Kendrick on Thursday; Kendrick fell to Nezperce in the lower division district title game.
Nezperce 47, Kendrick 43
LEWISTON — Kamas Carpenter tallied 21 for 1AD2 District II champion Nezperce, which also won a state berth on Feb. 10.