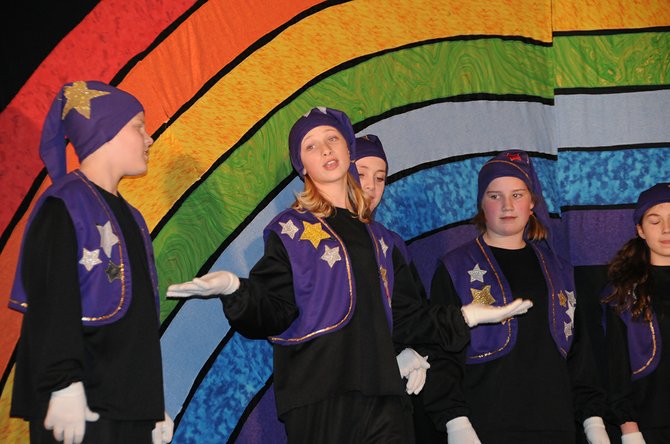 Photo by Lorie Palmer
Bella Klapprich is seen here in last year's MCT play "The Wizard of Oz." The seventh grade daughter of Bilejo and Melissa Klapprich of Grangeville will portray the stepmother in "Cinderella" Feb. 14, 7 p.m., at GEMS.
GRANGEVILLE – A pumpkin coach, prince charming, a glass slipper and a dream come true are woven together by the magic of a fairy godmother this Friday, Feb. 14, 7 p.m. at Grangeville Elementary Middle School's multipurpose room, when the Missoula Children's Theatre (MCT) and more than 60 local students present an original musical adaptation of Cinderella.
Cost is $10 for immediate family, $5 for adults, $3 for children and preschool and younger get in free.
The Missoula Children's Theatre residency in Grangeville is presented locally by Kids Klub with support from Gladys E. Langroise Advised Fund in the Idaho Community Foundation and Idaho Forest Group. Nearly 200 children auditioned for parts Monday, Feb. 10, at GEMS. Auditions were open to students in kindergarten through eighth grade from GEMS, Sts. Peter and Paul and other homeschooled and privately schooled children in the area.
The cast is as follows:
Stepmother: Bella Klapprich; Raggedy Annie: Illyana Barela; Cinderella: Debbie Webb; Beauty: Elise Shinn; Lovely: Anastasia Bearden; Town Criers: Caleb Barger and Hayden Hill; King: Matthew Nelson; Cleo: Holly Forsmann; Fido: Renee Sinclair; Rags/Prince: Kane Kennedy; Assistant directors: Kaylee Doughty, Michael Told, Clarissa Stevens and Victoria Williams; Pumpkins: Halle Told, Ruby Young, Shawn Chahal, Maxwell Adams, Trinity Yocum, Sophie Hess, Kylie Schumacher, Caleb Wilson, Gabriella Nelson, Kesenya Barela, Makenna York, Caryss Barger, Laura Nelson and Nathan Bryant; Mice: Dusty Bashaw, Quentin Farmer, Nichole Farmer, Emmie Told, Nathan Buck, Conner Hesse, Annalise Bearden and Meg'n Blundell; Beggars: Jillian Hausladen, Rachael Stevens, Nathan Reuter, Jill Stinnett, Mickey Nelson, Harrison Buck, Mindy Frederickson, Roop Chahal, Tristen Yocum and Kaleigh Cook; and Lords and Ladies: Aidan Acton, Kaylee Page, Jordan Click, Emilio Barela, Audrey Elwess, Jackson Page, Natalie Kaschmitter, Laura Fischer, Elizabeth Rutherford, Brandon Vetter, Dalton Dennis, Jessica Mallory, Taryn Godfrey and Rio Buck.