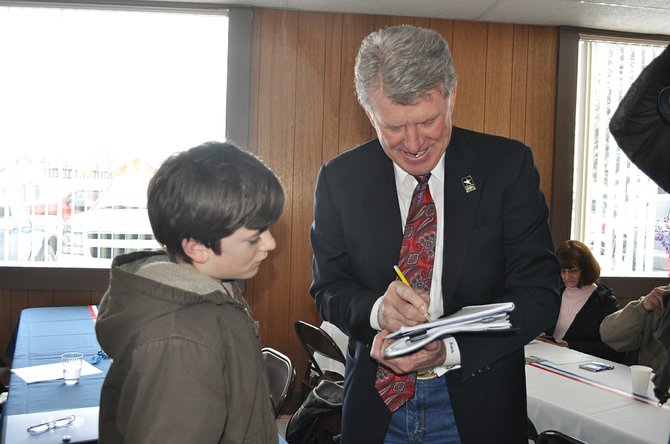 Photo by David Rauzi
Idaho Governor C.L. "Butch" Otter brought state governmental officials to Craigmont last Friday, Feb. 7, for the monthly Capitol for a Day event. Here he signs a note of appreciation for attending the event to (left) Aidan Acton, 10, of Grangeville.
CRAIGMONT – State government was at the beck and call of North Central Idaho residents last week when Craigmont became Capitol for a Day.
And 10-year-old Aidan Acton of Grangeville was among the early questioners for Governor Butch Otter.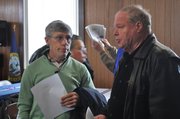 "What do you think the three biggest issues are for Idaho?" Acton questioned.
"Always the budget," Governor Otter replied, who put praise with the assembled officials noting their good work in money management, and he referenced Idaho as being in the top five best financially managed states in the union. Also, there's a state mandate preventing deficit spending: "We can't borrow 40 cents on the dollar like the fed," he said.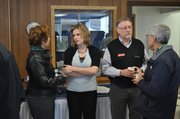 "Education is a top priority for us, and it's the right priority," Otter said, briefly discussing the nearly 65 percent of the state's budgeting going toward it. He also touched on corrections – "one of the many obligations of government is the safety and health of people," – noting that one of every 35 males in Idaho is in the criminal justice system, either in prison, probation or in other aspects such as therapy.
Craigmont City Hall was packed with between 50 to 60 people for the approximate five-hour event last Friday, Feb. 7, that drew most of the state's top officials, including Lt. Gov. Brad Little, Superintendent of Public Instruction Tom Luna, Idaho Transportation Department Director Brian Ness, Idaho Department of Environmental Quality Director Curt Fransen, Idaho Tax Commission Chairman Rich Jackson, State Board of Education member Bill Goesling and Idaho State Controller Brandon Woolf.
Capital for a Day is held in a different town in Idaho each month to provide residents an opportunity to have open discussions about government and public policy directly with state officials. The last such event within this region was held in Kooskia in 2007; the Craigmont event was the 72nd held since this program was started.
A question on when U.S. Highway 95 from Riggins to Council would be improved – apart from in response to floods or rockslides – brought Director Ness to discuss the realities of roads in Idaho: The state is short $543 million for maintenance, "and of this, $262 million a year is needed just to maintain the system as it currently is."
"We're hearing this all over the state," he said, "but it's hard to put in new roads when you're going backwards," adding that the state is putting money toward existing infrastructure in both maintenance and addressing defects.
Highland school student Miranda Hendren questioned Otter on Idaho's ranking of 50th in the nation on per student education spending. Otter discussed the state task force 21-point recommendations at $350 million to implement improvements in such areas as pay scale, academic standards and technology. Both he and Superintendent Luna discussed the spending statistic was relative and broad, factoring in urban school districts with more taxpayers per student, and also more spending that – as Otter noted in the case of Washington, D.C. schools – did not equate to improved academic performance.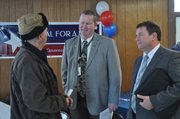 "Idaho has one of the highest high school graduation rates in the nation," Luna said. "Ninety percent graduate, but only 40 percent pursue further education after high school. That is one of the areas we have to focus on."
Otter's administration also received praise for its policies, such as from Idaho County Light and Power's general manager Jake Eimers, who thanked them for their support and interest in energy issues that he said have made for affordable and available power. An official with the Port of Lewiston also thanks Otter for the state's support of the state's inland seaport, which provides jobs and economic activity for the region. And Craigmont ag producer Bill Flory said, "Your administration's track record is little more than impressive," in its efforts supporting production agriculture.