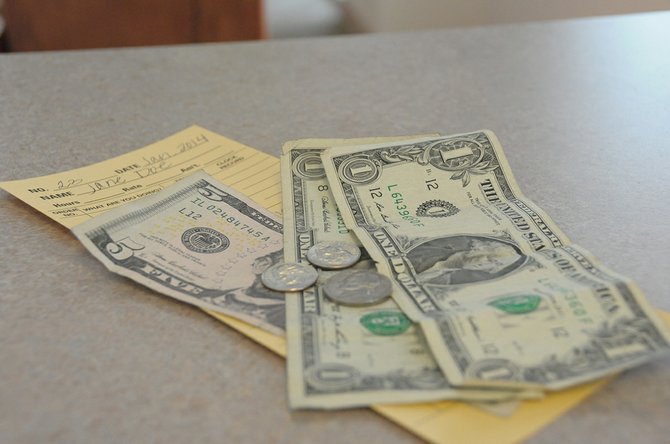 Photo by Lorie Palmer
Idaho minimum wage currently sits at $7.25 per hour.
GRANGEVILLE – Grangeville City councilwoman Shelley Dumas knows what it's like to survive on very little.
Minimum wage facts:
$10.74 = How much the federal minimum wage would be if it had kept up with inflation over the past 40 years. Instead, it's $7.25
$15,080 = The annual income for a full-time employee working the entire year at the federal minimum wage.
0 = The number of states where a minimum wage worker can afford a two-bedroom apartment working a 40-hour week.
3 = The number of times Congress passed legislation to increase the minimum wage in the last 30 years.
19 = The number of states (including the District of Columbia) which have raised their minimum wage above the federal level of $7.25.
10 = The number of states that annually increase their state minimum to keep up with the rising cost of living.
67 = The percentage of Americans that support gradually raising the minimum wage from $7.25 an hour to at least $10 an hour, according to an October 2010 poll.
$2.13 = The federal minimum wage for tipped employees, such as waiters and waitresses, nail salon workers, or parking attendants.
Minimum wage for Idaho's neighboring states includes Washington at $9.32; Oregon at $9.10; Montana at $7.90; Wyoming at $5.15; and Utah at $7.25. Other states include Arkansas at $6.25; Minnesota at $6.15; Georgia at $5.15; and Puerto Rico at $4.10. Alabama does not have a minimum wage.
~ Information from RaiseIdaho.Org; U.S. Department of Labor
"I moved to Grangeville in 1988 after a divorce and I had nothing," she said. "I worked at a volunteer job that compensated me with $10 a day, seven days a week. That's how I paid rent and all my expenses."
That background, Dumas said, was a "valuable experience" for her. She had been raised upper middle class and married into that same lifestyle.
"I learned how to balance and prioritize," she said. "It was very difficult but for me it was only temporary. I cannot imagine having to continually live on that little."
That is why Dumas has taken to heart the cause to raise Idaho's minimum wage.
According to the Idaho Interfaith Roundtable Against Hunger (IIRAH), Idaho is one of the four states with the greatest percentage of jobs paying minimum wage which is $7.25 per hour, the same as the federal minimum wage.
"I am adamant people be allowed to earn a living wage," Dumas said. She has petitions, sponsored by the organization Raise Idaho, she has been asking people to sign in support of legislation being introduced to increase the hourly wage to $9.75 during the course of two years and then tie it to the Consumer Price Index (CPI) thereafter. Under a bill sponsored by Senators Cherie Buckner-Webb and Elliot Werk, tipped wages would also increase from $3.30 to $3.80 and then to $4.25 in July 2015.
Dumas so far has about 70 signatures from Idaho County; throughout the state, approximately 54,000 are needed to ensure the bill is introduced at the Idaho legislative session.
Dumas said those who earn low wages do not make enough to meet the basic necessities, let alone any recreational or emergency funds.
"It's hard enough to make rent, and how could you even dream about owning a house one day on minimum wage?" she said. "And most people in this earning bracket have not had access to health care."
She said she sees a minimum wage increase as being a good move for the economy, as well.
"Right now, minimum wage earners are not able to put money back into the local economy other than for the basic necessities of food and shelter," she explained. "If they had some disposable income, think of how much could be spent locally."
One of the often summarized benefits to not increasing the minimum wage is the fact that consumers pay less for goods and services under the current low-wage system.
"To me, this is about social justice," Dumas said. "Maybe we will pay a little more but currently these prices are being subsidized by underpaid workers. I want everyone to have a fair chance to earn a living wage. That's all. It's apolitical to me."
Dumas has petitions available that people can take and have signed and she also has petitions to sign for those who are interested.
"I'm not twisting anyone's arm," she laughed. "I feel strongly about it but I do understand there are some objections. However, my heart just feels this is the right thing to do."
For details call Dumas at 983-2821 or log onto www.RaiseIdaho.org.