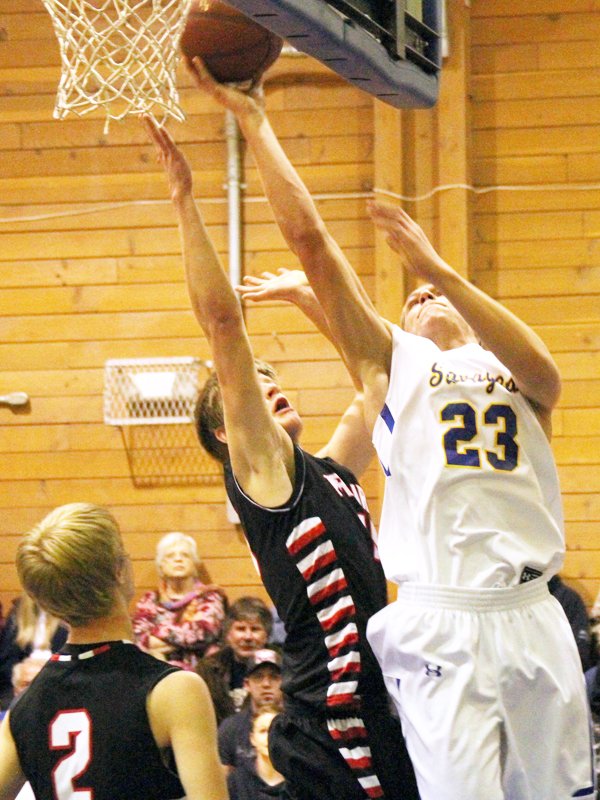 Salmon River Photos / Frank Mignerey
Salmon River's Leighton Vander Esch went for 31 points against previously undefeated Prairie last Thursday night, Feb. 6, as the Savages avenged an early-season road loss at PHS with a 69-59 home win.
RIGGINS — Two of Idaho's top 1A boys basketball teams needed extra time to decide how to assign bragging rights, but after key shots by Leighton VanderEsch and Jimmy Shepherd lifted Salmon River to a 69-59 victory over Prairie last Thursday night, Feb. 6, the Savages and Pirates wound up with a split. In December, Prairie saddled the Savages with their second loss — but that was a while ago, and both teams were shorthanded. Both squads were full-fledged for the showdown — they won't meet again this season — and Prairie used a balanced attack to push Salmon River to the brink of defeat.
Paced to the finish by Lucas Arnzen (18 points), Rhett Schlader (18), Tyler Hankerson (12) and Jake Bruner (10), Prairie led by two with the buzzer bearing down on VanderEsch, who sank a do-or-die buzzer-beater to extend the game.
It was essentially all Savages after that, as the Pirates scored just four points the rest of the way. When Shepherd sank a trey with 1:10 to go in overtime, he sank the visitors' chances.
VanderEsch (31), Shepherd (22) and Terrun Zolman (11) made double-digits for SRHS.
Coming — Prairie will play Kamiah Friday night, Feb. 14; Salmon River has Garden Valley (Feb. 12) and Horseshoe Bend (Feb. 14) left to play. Then they'll contend for their respective district titles.