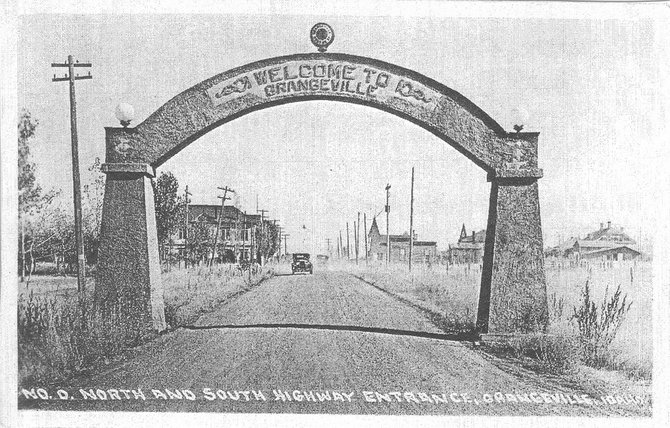 10 YEARS AGO
FEBRUARY 11, 2004
•BOISE – Governor Dirk and First Lady Patricia Kempthorne honored recipients of the 2004 Brightest Star awards. Included in that list are St. Mary's Hospital of Cottonwood, a grand prize winner in the business category, and Prairie High School student Kelby Wilson, finalist in the individual category.
20 YEARS AGO
FEBRUARY 10, 1994
•Earth First! activists aroused the ire of Dixie residents Tuesday when they drove a pickup truck on a snowmobile trail and became stuck.
Two deputies responded to the scene to keep the confrontation from getting out of hand, said Idaho County Sheriff Gene Meinen.
30 YEARS AGO
FEBRUARY 8, 1984
•One of the most popular events of the Winter Festival is the free chili feed held this year at the Grangeville Elementary School cafetorium.
40 YEARS AGO FEBRUARY 13, 1974
•The transfer of Robert O. Rehfeld, forest supervisor of the Nez Perce National Forest to Juneau, Alaska, was officially announced by the U.S. Forest Service this week.
He has been supervisor of the Nez Perce National Forest since 1970.
50 YEARS AGO
FEBRUARY 13, 1964
•A 10-year struggle of northwest investor-owned utilities to build a major, multipurpose dam on Snake River came to an end last week when the Federal Power Commission approved the application of Pacific Northwest Power Co. to build the $257,000,000 High Mountain Sheep project 50 miles south of Lewiston.
60 YEARS AGO
FEBRUARY 11, 1954
•Mrs. Arthur Groom has been elected president of Sts. Peter and Paul parochial school Parent Teacher Association. The organization was just organized.
70 YEARS AGO
FEBRUARY 10, 1944
•In the 1943 National War Fund campaign Idaho was the first state in the nation to raise and remit its full quota. Grangeville was the first city in the state to go over the top and Idaho County over-subscribed its quota 30 percent.
•Idaho County Selective Service put 50 men in the A-1 Class for military induction. These were all married men with families of from one to seven children.
80 YEARS AGO
FEBRUARY 8, 1934
•L.E. Bunting was elected president of the city council. Weston R. Henry was appointed to succeed Alton D. Crowe as councilman of the first ward.
90 YEARS AGO
FEBRUARY 14, 1924
•Income tax returns must be filed by all persons with a gross income of $5,000; married persons living with husband or wife, whose net income is $2,000 and single persons with an income of $1,000 must file. Exemption for married couples is $2,500; single person is $1,000 and for dependents, $400 each.
100 YEARS AGO
FEBRUARY 12, 1914
•A shipment of 2,200 pounds of oats from Ferdinand to Joseph went through the local post office this week, and as a result the mail consigned to White Bird weighed more than 3,500 pounds.
•STITES – "Dan," a horse well-known in the mountain sections and used by N.P. Pettibone on his stage line between Stites and Elk City, rolled off the grade and was killed.
110 YEARS AGO
FEBRUARY 11, 1904
•The state case against two residents of the red light district, which was appealed from Judge Jaques court was dismissed. This was a charge brought last week by one of the denizens of the tenderloin charging the defendants with disturbing the peace. The mere fact that the case was allowed to get into the courts at all is severely criticized and strongly favors of a job to beat the county out of a little money.
120 YEARS AGO
FEBRUARY 9, 1894
•COTTONWOOD – The boys of the village have started the snowshoe fad, and now nearly every youngster is trying to break his neck with them.