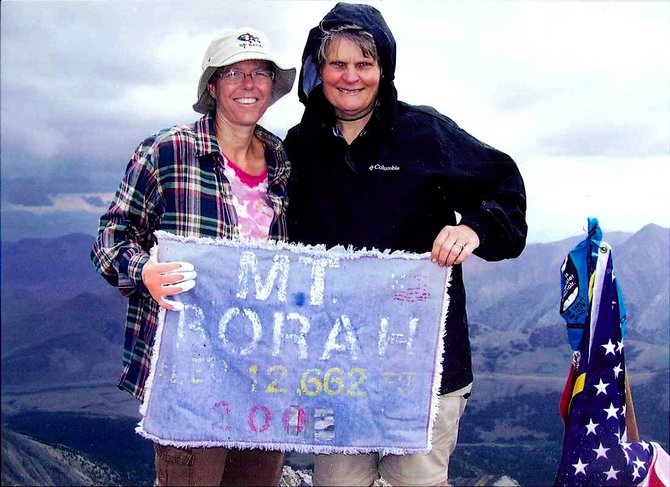 Contributed photo / Sandra Reilly
(L-R) Tami Plank and Sandra Reilly at the top of Mt. Borah on July 27, 2013.
Sandra Reilly, local TOPS (Take Off Pounds Sensibly) member, is on a mission to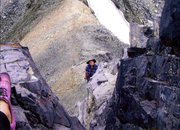 reach her goal weight in 2014. She has lost 40 pounds and is l0 pounds from her goal. In her efforts to lose weight Reilly climbed Mt., Borah, Idaho's highest mountain at 12,662 feet, on July 27, 20l3. She had previously climbed Half Dome in Yosemite Park in California. She and a climbing partner, Tami Plank, trained for the climb at the local gym and on hikes in nearby wilderness areas. They researched Mt. Borah and its trails online and learned from local climbers, who served as trainers and accompanied them on their trek.
They learned to take 20 or 30 steps, stop for a few seconds then climb higher. They were told to eat and drink regularly to keep hydrated, energized and to avoid altitude sickness.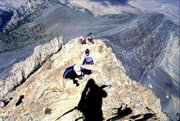 They camped at the base of Mt. Borah, then began their climb at three in the morning, using miners' head lamps. Starting at elevation 8,000, they traversed a fairly easy dirt switchback trail, then crossed an area of lose, sharp rocks called scree, and took a side route around the steep mountainside. Sandra lost a shoe in a very steep area, but a climber behind her caught the shoe and pushed it back on her foot, saving her from a difficult situation. After a few hours they reached a place called COR (Chicken Out Ridge) where climbers can view the narrow, difficult ridge, where they must crawl on hands and feet and hang on for dear life. Sharp, slick rocks were a constant challenge. They had great weather and snow was minimal in July.
Reilly and Plank wore no special gear, just layers of clothing for temperature changes, tennis shoes and special sandals, and garden gloves for hand protection. They left their packs of food and water at the base of COR as the path to the peak left little room for extras.
Reaching the l2,662-foot summit, the women caught a quick view of the spectacular scenery and immediately began their descent. Limited space at the top discourages loitering there. The descent presented different challenges with punishing downward pressure on feet and toes. They were told by previous climbers to cut toenails as short as possible as others have lost multiple toenails after their trip to the top. Ascending 5,262 vertical feet in a little more than 3.5 miles assures a steep descent. Plank wore sandals, which helped her avoid toe injury.
Reilly and her team reached base camp after l4 hours on the mountain. They saw about 50 other people on the hike, including a scout troop and a couple of experienced 80-year-olds, who easily passed them. Many climbers turned back at COR. After reaching their goal, Reilly and Plank decided a motel room with a hot shower and comfortable bed were suitable rewards for their success, rather than the Spartan camp they had originally planned.
Reilly lost a few pounds on the climb, but the best part was the inspiration it gave her to tackle her weight loss challenge in the same way she tackled the climb. Read, prepare, train and do it! In this way she expects to attain her goal weight any day now.
Local TOPS 283 meets each Monday at 8:30 a.m. at U.S. Bank on Main Street in Grangeville. Dues are $42 per year. Call 983-0927 for information.