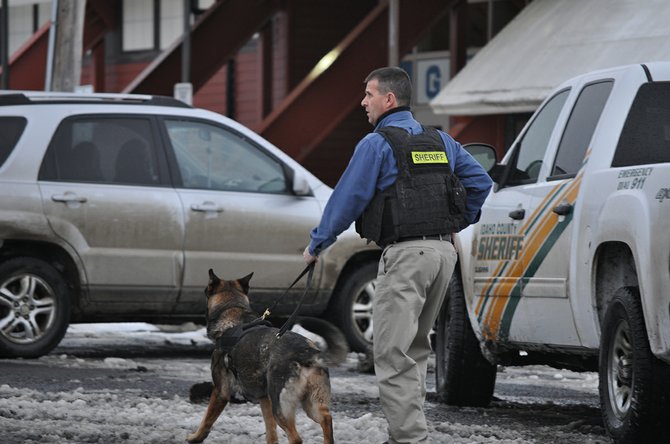 Photo by David Rauzi
An unidentified Lewis County Sheriff's Office deputy deploys a K-9 dog to assist in the facility search of Grangeville High School during Monday afternoon's lockdown.
GRANGEVILLE – "There was no crime, no law was violated," said Grangeville Police Chief Morgan Drew following a nearly two-hour lockdown of Grangeville High School on Monday afternoon over what turned out to be a toy gun brought for play practice.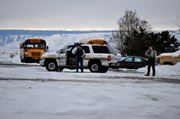 Approximately 50 students and staff were in the building at the time of the 3:36 p.m. report, Feb. 10. A student on board a school bus witnessed what appeared to be a person with a rifle or shotgun entering the main GHS entrance. The student reported this to the bus driver who stopped to use a phone to report the incident, resulting in dispatch of two GPD officers and an Idaho County Sheriff's Office deputy within three minutes. Officers contacted school staff who then initiated lockdown procedures.
Additional law enforcement personnel from the Grangeville and Cottonwood police departments, Idaho and Lewis counties, Forest Service and Idaho State Police responded to help secure the campus and conduct a facility search.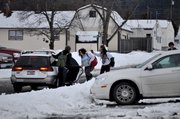 "We did not find anyone matching the description," Drew said, and after the facility was secured, students were released to their parents.
"After investigation, we found it was a [GHS] staff member who was bringing a replica gun for use in a school play," Drew said. Law enforcement cleared the scene at 5:30 p.m.
The GHS lockdown disrupted sports practice, a hunter's safety class and a Driver's Ed meeting. School returned to normal schedule on Tuesday. According to MVSD 244 Superintendent Ken Stokes, Grangeville Elementary Middle School (GEMS) was put in lockdown as a safety precaution. Along with sports practice, this also disrupted Missoula Children's Theater auditions and Kids Klub afterschool programs at GEMS.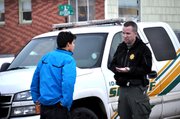 Drew expressed thanks for law enforcement assistance and the school and staff for their cooperation. As a result of this gun replica incident, his department will be working with the district on finding ways to move such items in and out of the school in a safe manner.
Such incidents are treated as a threat to the community, he said – "The safety of our schools and our children is of paramount importance to the local law enforcement agencies," — and all resources are deployed until it is determined there is no real threat.
"We're certainly happy this ended the way it did," he said.